Tuesday, April 24, 2012
More Sun, More Fun!
Our roundup of the cool, exciting and notable from Sun 'n Fun 2012
TBM 850 Elite
www.tbm850.com
A prominent focal point in the main display area this year was a new TBM 850 turboprop single. In an age of dwindling sales of large, expensive aircraft, the good news for parent company Daher-Socata was the sale of an 850 at the show—the first time for the company at Sun 'n Fun. The luxurious (six adjustable leather seats) single-engine turboprop has a max cruise of 320 KTAS (at 26,000 feet) and range is as high as 1,585 nm. The stellar panel comes loaded with state-of-the-art avionics. Powerplant and major system displays are handled by the Garmin G1000 15-inch MFD. Also displayed are cabin pressurization, ETM (Engine Trend Monitoring) and much, much more. Daher-Socata has also extended its Exclusive Maintenance Program into 2012, which covers scheduled maintenance costs through the aircraft's fifth annual inspection or 1,000 total flight hours, whichever comes first. Base price: $3.2 million.
CowlaBunga, Dude!
www.loprestiaviation.com
Curt LoPresti of LoPresti Aviation carries on the tradition of his pioneering aerodynamicist father Roy with a new streamlined cowl for the Cessna Cardinal 177RG. Like the company's other after-market mods, it's a real beauty. Beyond the beholder's eye, there are performance aesthetics as well for Cardinal owners who want more: reduced drag (14 mph faster!), fuel efficiency, lower engine temps, improved cooling air exit, SCRAM air boost, larger, hi-flow oil cooler; and it's roomy enough for the IO-390 engine version. All new baffles and baffle seals are included. "The cowling is computer developed," says LoPresti, "using computational fluid dynamics software to enhance the aerodynamics. All the tooling was cut by a CNC machine so the carbon fiber-based, epoxy-infused parts are perfect. We scanned the whole airplane and lofted it into 3D on the computer. The epoxy is fire resistant and the parts—a spinner is included—are made with infused layup technology. That's a new technique that makes a perfect laminate with no voids. It's light and stiff and...beautiful! It's the latest way to do composite parts." Price: $15,999, or $13,999 with commitment from a group of 10 owners.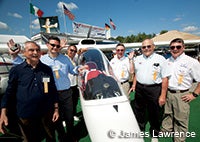 Sky Arrow
www.hansenairgroup.com
Back in 2008, the Sky Arrow (#18 to achieve ASTM compliance), a tandem S-LSA with a long, flowing pod and boom design, ceased production. That didn't ground the sturdy pusher though: Jon Hansen of Hansen Air Group continued to service the S-LSA (which is also Part 23 certified), and helped Able Flight's program use it as a hand control-only trainer for student pilots with disabilities. "I had daily requests for Sky Arrows with special controls but I couldn't sell them because they weren't in production," says Hansen. "Now I can, and the new company will produce the all-hand control system, too. I figure we'll have 30% of airplanes that come to us from Italy with the special controls, which took five years to develop." Magnaghi Group of Italy's CEO Giorgio Iannotti made the announcement at Sun 'n Fun, with members of the design team and Hansen Air Group principals in attendance. Magnaghi is an Italian aerospace manufacturer with 600 employees. It will re-introduce the all-composite tandem aircraft at Oshkosh in July. Production will begin soon on the updated model. Upgrades include reduced weight, larger wing tanks for six-hour range, refined aerodynamics and state-of-the-art avionics. Price: To be announced.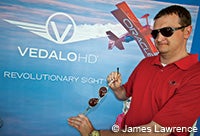 VedaloHD Sunglasses
www.vedalohd.com
As Sales Manager Joseph Jones of VedaloHD aptly demonstrates in the photo, the new Stritanium Lombardy sunglasses frame is virtually indestructible. The super-lightweight headset-comfortable frame (18 grams) is made in Germany of surgical stainless steel infused with titanium, and it's indeed feather light. The design allows the no-screw-hinged temples to pop off when twisted past a certain point, and they snap easily back into place. Equally impressive are the quality lenses, in particular the copper-rose tint, with noticeably enhanced contrast and detail definition. Clouds pop out from the sky, depth perception is improved and perceived light levels in the cockpit are less compromised when in the soup or under cloud cover compared to more traditional smoke-tinted lenses. Also new is the ability to order EyePerform Digital HDRx prescription lenses that accommodate the wraparound style without distortion and retain all the qualities that make VedaloHD the choice of 75% of air-show stunt pilots: UVA and UVB blocking, non-polarized to avoid blocking out avionics screens and shatter resistant. Price: $150-300, depending on style (add $300 for prescription lenses).
Page 2 of 3
Labels:
Aviation News
,
Buyer's Guide
,
Features
,
New Products
,
Pilot Resources
,
Pilot Supplies
,
Pilot Gear
,
Gear
,
Air Shows
,
What's New
,
Aircraft
,
Gadgets