Tuesday, February 24, 2009
April 2009 Readback
Surfing The Skies!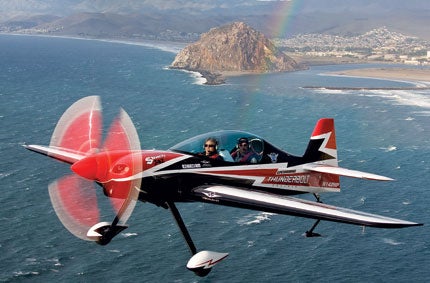 On January 25, the extreme worlds of aerobatics and surfing were united in the skies over the break at Morro Bay, Calif. Kevin Eldredge, owner of SLO Air, the exclusive distributor of the new Sbach 300 and 342 Xtreme aerobatic aircraft from Germany, flew loops, rolls and hammerheads with world-class surfers Chris Ward and Gavin Sutherland. Also participating was Tutima Academy, going inverted with Ben Freelove in a Pitts S-2B. The first-of-its-kind event was sponsored by VedaloHD Performance Sunglasses, Azhiaziam American Aerial Wear and S.O. Productions to commemorate the launch of the new WardoHD signature line of sunglasses.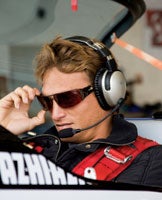 "Putting a surfing phenom in an advanced aerobatic aircraft with one of the top pilots in the world was the only way to truly test the extreme nature and styling of the WardoHD sunglasses. The Sbach 342 flight with Chris Ward and Kevin Eldredge pays tribute to Vedalo's aviation heritage while paving the way for the next generation of sunglasses from Vedalo that will equip wearers with an unprecedented level of form and function," said Chris Pederson, VedaloHD's marketing director. Visit www.vedalohd.com, www.sloair.com and www.tutimaacademy.com.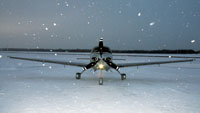 Cirrus Ice Protection
CAV Aerospace's TKS ice protection technology is now available for Cirrus SR22 and Turbo models for flight into known icing (FIKI). Cirrus Chairman Alan Klapmeier said, "Known Ice Protection completes the picture for many people when it comes to reliable personal transportation. For many, it can allow operations on marginal days [on which] icing forecasts would otherwise preclude travel." TKS includes precision-crafted, laser-drilled-titanium leading edges on wings and horizontal and vertical tail surfaces. An automotive-style deicer system distributes TKS fluid onto the windshield, and a traditional slinger-ring dispersion system provides ice protection for the propeller. Visit www.weepingwings.com and www.cirrusaircraft.com.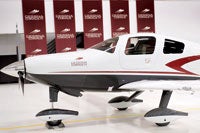 Corvalis Debut
Cessna Aircraft renamed the Cessna 350 and 400 to the 350 Corvalis and 400 Corvalis TT, respectively, as part of Cessna's 2007 acquisition of Columbia Aircraft. "The name Corvalis, although spelled differently, was inspired from the name of a picturesque Oregon town about 120 miles west of Cessna's Bend, Oregon, manufacturing facility," said Tom Aniello, Cessna's vice president of marketing.

Avidyne has received FAA STC approval for the installation of its TWX670 Tactical Lightning Detection System in the Corvalis 350. STC approval for the TWX670 in the Corvalis 400 is expected soon. Visit www.cessna.com and www.avidyne.com.
Page 1 of 3