Tuesday, February 26, 2013
April 2013 Readback
Generation 5 Cirrus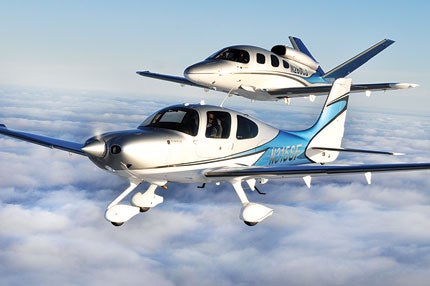 Cirrus Aircraft's new 2013 SR22 and SR22T feature an increased certified gross weight to 3,600 pounds, which allows an extra person, extra baggage or cargo while carrying more fuel. Generation 5 is the name given to the airframe change. The aircraft design was analyzed from spinner-to-tail and many parts and systems reengineered to accommodate the increased airframe load, aerodynamic improvements, improved flight performance and the Cirrus Airframe Parachute System (CAPS). Substantial testing, including a new series of CAPS parachute test drops, was conducted for validation. Changes to the CAPS system include an increased canopy size, a new rocket extraction system that propels the parachute upon activation, an advanced technology electrical rocket igniter and lighter, and stronger construction materials. Other airframe upgrades included strengthening the carbon-fiber single-part wing spar, the landing gear and a new flap system allowing extension to the first position at 150 knots. A special edition Generation 5 SR22T was inspired by the upcoming Cirrus Vision SF50 jet and modern automotive styling. Deliveries of the 2013 aircraft are already underway. Visit
www.cirrusaircraft.com
.
Sebring Sport Expo
More than 160 exhibitors displayed light-sport aircraft and aviation-related products during the ninth annual U.S. Sport Aviation Expo at Sebring Regional Airport. Forty educational forums offered the opportunity to learn about aviation safety, flying in Florida airspace, as well as the process of building and maintaining aircraft. The Seaplane Pilot's Association awarded a scholarship for a fully paid seaplane rating that went to Angel Castellanos of Lakeland, Fla. It will fully fund a single-engine rating at any SPA-recognized seaplane training facility. Expo director Jana Filip said, "Many exhibitors reported strong sales, as well as enough qualified leads, to keep them busy for the next couple of months. In Sebring Expo record books, that goes down as mission accomplished, despite the weather not being as good as we'd hoped." The 2014 Expo is scheduled for January 16-19. Visit
www.sport-aviation-expo.com
.
Highlander SuperStol
Just Aircraft has completed flight-testing on their new Highlander SuperStol, which can be certified as an SLSA. The upgraded design features a new slatted wing and a strengthened landing gear that features long strut airshocks and can utilize 29-inch tundra tires. With the new wing configuration, the Highlander will cruise at 110 mph, land at 32 mph and take off or land in 150 feet. The wing slats, when combined with the large Fowler flaps, allow the aircraft to be flown at extremely high angles of attack permitting it to "drop" into small or inclined clearings. All existing Highlanders can be retrofitted with the new folding SuperStol wing. Visit
www.justaircraft.com
.
Raisbeck Anniversary
Raisbeck Engineering is celebrating the 31st anniversary of the company's incorporation. "Although we have developed a large and successful range of products for business and commercial jets, we're best known for our King Air Performance Systems," said Raisbeck's Director of Sales Scott Keefe. "Since 1982, when we unveiled our first systems for these reaprkable aircraft, we have also been continuously improving our systems. One example is our recent introduction of Crown Wing Lockers in response to customer demand for even greater external cargo capacity." Raisbeck Performance Systems for King Airs are factory installed or optional equipment on Beechcraft 250, 350, B200GT and C90GTx production lines. They're also sold and installed by Hawker Beechcraft and Bombardier Learjet Service Centers and over 100 independent Raisbeck Authorized Dealers around the globe. Visit
www.raisbeck.com
.
CAN's 42,000th Patient
Corporate Angel Network, an organization that arranges free flights to treatment for cancer patients in the empty seats of corporate aircraft, has transported its 42,000th patient. The flight carried one-year-old cancer patient Alexander Hopper home to the Denver area after he received treatment for retinoblastoma at Memorial Sloan Kettering in New York. Traveling with him was his mother, Andrea Reitzel. "Alexander is almost cured from retinoblastoma," said his mother. "The best treatment for a cure was only available by plane. Our burden is lighter because of CAN." The milestone flight was operated by Ball Corporation, a CAN participating company since 1985. "At Ball, engaging in our communities is something we have done for over 130 years" said Barry Stidham, Director of Aviation and Chief Pilot. "We are proud to partner with CAN and the good work that they do, and while as a pilot I love every flight I make, the CAN flights, like today's, are always the ones I remember most." Visit
www.corpangelnetwork.org
.
Page 1 of 2