Tuesday, June 19, 2012
Cockpit Cameras
Which point of view is right for your flying adventures?
V.I.O.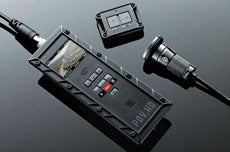 V.I.O.
www.vio-pov.com
V.I.O. has been in the business longer than any other major manufacturer, and their POV.HD camera is a top-quality product that looks like it was designed for the military. O-rings and screw-down connectors, along with an extremely durable case, accompany this camera. An HD video head is mounted on the end of a 1.5-meter cable, offering a pilot some unique mounting options and the ability to mount the camera on the exterior of the plane—within 1.5 meters—but view the feed from the cockpit. The recording unit has a built-in LCD screen that allows you to configure and align the camera to frame your shot. It also comes with a wireless trigger to start, stop and tag spots in your video. Its remote control can be very useful when mounting outside of a pilot's reach. The POV.HD records in .mp4 format, so if you're a PC user, this is a native file format. The POV.HD retails for $599, and the quality of the system is definitely apparent in the rugged case and mil-spec connectors. Widest field of view: 142 degrees.

Your focus as a pilot should be flying, not managing a camera system. Setting up a camera shouldn't take more than about 60 seconds during pre- and postflight. Any longer than that, and it may become and unwanted distraction.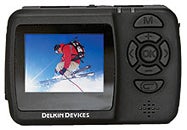 Delkin
Delkin
www.delkin.com
The Delkin WingmanHD shares the point-and-shoot form factor of the GoPro and features a built-in LCD screen and onboard editing capabilities. The ability to edit and delete unwanted clips in the field using the 1.5-inch TFT LCD screen can prove very useful. While capturing video, a dedicated still-photo button allows you to also capture eight-megapixel still images. Its ¼"-20 tripod mount and waterproof housing allow the camera to capture some unique angles outside of the cockpit, as well. Although the name suggests an aviation theme, there are no aviation-specific features. At a price of $199, it packs a lot of punch in a small package. Widest field of view: 150 degrees.
Page 3 of 3