Wednesday, October 21, 2009
December 2009 Readback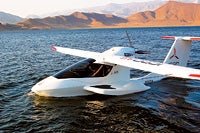 Icon Gets Award
Icon Aircraft has been awarded the 2009 IDEA/BusinessWeek Gold Award. The Icon A5 won over all cars, boats, planes, motorcycles and any other transportation products designed in 2008. John Barratt, a member of the 2009 jury, said of the Icon A5: "Nearly flawless execution from initial vision to final marketing. Innovative features and intriguing detailing complete the package. This is a powerful vision that could bring flying to a broader audience." The A5 also has been nominated for the People's Choice Award. Visit
www.iconaircraft.com
and
www.idsa.org/IDEA2009
.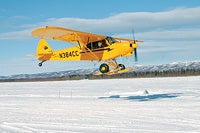 New CubCrafters Sales Centers
CubCrafters has launched its Certified Sales Center (CSC) program, a worldwide network of independent aircraft resellers. General Manager Randy Lervold said, "Our goals for the new program are to provide improved product knowledge and customer support through our sales network, and increase access to demo aircraft in local markets." These centers now cover half the U.S., and CubCrafters plans to open more. Visit
www.cubcrafters.com
.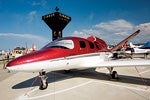 New Flight School Association
The Flight School Association of North America (FSANA) has formed the first aviation association dedicated solely to the flight training industry. The membership-based association represents flight schools, firms that provide services to the flight training industry, and supporting partners. Members will ensure that the industry is prepared to move forward and grow the pilot population. Become a founding member by December 31 to get a 25% discount off the regular membership rate. Visit
www.fsana.com
.
Vision Jet At PlaneSmart!
PlaneSmart!, an aircraft ownership program that offers managed ownership in the Cirrus SR22 Perspective, Cirrus SR22-G3 Turbo and Pilatus PC-12 NG, has just added the Cirrus Vision SF50 to its fleet. For a limited time, you can purchase a ¼ share in the SR22 Perspective and get a reservation in the Vision SF50 at no additional charge. Visit
www.planesmart.com
.
New ATP Centers
ATP is opening two new training centers. Classes at ATP's fourth Southern California center—in Camarillo, Calif.—will start in November, and its White Plains, N.Y., center will open in early 2010. "ATP has received many requests for both a New York and another SoCal location," said Jim Koziarski, ATP's VP of flight operations. These new locations follow the 2009 launches of centers in Charlotte, Indianapolis, San Diego and Tampa. Visit
www.atpflightschool.com
.
Page 2 of 3