Wednesday, October 21, 2009
December 2009 Readback

New Cheetah XLS
The Cheetah XLS is a high-wing tube-and-fabric aircraft with a base price of $47,900. It's available as a kit until the S-LSA certification process is completed. Midwest Sport Aviation has been designated as the U.S. assembly center and distributor for the Cheetah XLS by Rainbow Aircraft of South Africa. Visit
www.mwsportaviation.com
.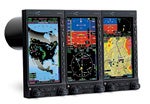 FAA Certifications For Aspen
Aspen Avionics has received FAA TSO authorization for its EFD500 MFD, the EFD1000 MFD and the EWR50 Evolution Weather Receiver. Aspen will begin shipping its newest products to dealers immediately. The Aspen Evolution Flight Display System is an expandable and upgradable PFD, MFD and hazard sensor system for GA aircraft. Visit
www.aspenavionics.com
.
New Leadership At Lycoming
Michael Kraft is Lycoming Engines' new senior VP and general manager; he replaces Ian Walsh, who has been promoted to Chief Innovation Officer at Textron Systems. Formerly Lycoming's VP of research, development and engineering, Kraft led a team that accelerated product development with a focus on high engine safety and performance standards. He also led Lycoming's Air Safety Investigation unit. Visit
www.lycoming.com
and
www.textron.com
.
PRODUCT PREVIEWS

A P-51 Christmas
If you can't find a P-51 under your tree, the next best thing is Sporty's 2009 Christmas Ornament featuring the historic warbird. This is the 25th year for Sporty's Christmas ornaments, which have become a pilot holiday tradition. Pilots also can immortalize their favorite airplane on a custom crystal ornament. Contact: Sporty's, (800) SPORTYS,
www.sportys.com
.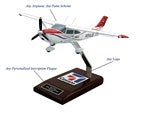 Custom Aircraft Models!
Re-create your plane with a museum-quality desktop replica. Aircraft Spruce's custom-made models are built to your exact specifications, and can be fitted with a custom stand and plaque. Models are a maximum of 17 inches in either wingspan or length. Contact: Aircraft Spruce, (877) 477-7823, www.aircraftspruce.com.

Celebrate 2010 In Style
From famed photographer Philip Makanna comes two exquisite Ghosts 2010 calendars: The Great War (featuring WWI aviation) and A Time Remembered (with WWII warbirds). Makanna has dedicated himself to aviation photography for nearly four decades, and has published several collections of vintage warbird photos. Contact: Ghosts, (800) 331-8231,
www.ghosts.com
.
Page 3 of 3