Wednesday, November 30, -0001
Fab Fall Mini Roundup
A new powerplant, LSA, air-conditioner, avionics and iPad apps for your Santa's list
CLARITU SV ADS-B RECEIVER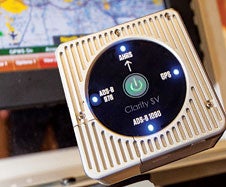 Sagetech's palm-sized Clarity SV (Synthetic Vision-capable) ADS-B receiver takes economical advantage of our new ADS-B (Automatic Dependent Surveillance-Broadcast) aircraft tracking safety net. It's all part of the NextGen air transportation system.

ADS-B Out transponder devices, by design, transmit precise location to ground stations and all aircraft equipped with an ADS-B receiver. The Clarity SV picks up those ADS-B Out signals from any aircraft in the vicinity carrying the device, (which by law will be just about everybody by 2020). It then delivers the data to an iPad via WiFi link, and the display instantaneously shows where those aircraft are.

The Clarity SV communicates fully with 3D Synthetic Vision software, such as Wing-X Pro, Mountain Scope, iPad EFB and Xtreme Vision 3D. These and other software suites interpret the data to show the nearby aircraft, on a GPS moving map, with AHRS (Attitude Heading Reference System) 3D Synthetic Vision precision that shows you another airplane's location, altitude, direction of flight and other critically important information.

Clarity SV includes a high-precision WAAS GPS receiver, internal six-to-eight- hour battery, and inflight FIS-B (weather radar, forecasts, NOTAMS, etc.)—and no subscription fees. Price: $1,400. Contact: www.sagetechcorp.com.
QUICKSILVER SPORT 2S
For more than 30 years, the name Quicksilver was synonymous with top-quality, fun-flying ultralight aircraft, as more than 15,000 buyers of the kit aircraft discovered. With the advent of the LSA movement and the rush to create "little Cessna 172" aircraft, the virtues—and lower costs—of open-frame, ultralight-style construction went overlooked.
Then mushrooming prices brought renewed appreciation for more basic, affordable aircraft. Quicksilver Aeronautics was given a second lease on life by new investors and management, and at AirVenture this year, the company announced its Sport 2S and partially enclosed cockpit GT500 models (the 500 is already Primary Category certified) should be official ASTM-approved SLSA by the time you read this.
Quicksilver was a top hang-glider manufacturer in the 1970s. When it fitted the popular rigid wing "Quick" with a 15 hp engine, it helped usher in the Ultralight age.
Other aircraft in the Quicksilver line include the single-seat Sprint and Sport, two-place Sprint 2, Sport 2S and single-seat GT 400. The company expects to have all seven models certified as either LSA or Primary Aircraft (to help sell in Europe) by year's end. Contact:
www.quicksilveraircraft.com
.
Page 2 of 4