Tuesday, January 1, 2008
January 2008 Readback

Liberty announced the closing of a major debt financing, arranged by Kuwait Finance House (Bahrain), which will allow the company to expand its production capacity. "The decision to raise finance was based on the strong worldwide demand for Liberty's XL2 aircraft," said the General Manager of Kuwait Finance House, Abdulhakeem Alkhayyat. "The finance is important, as it gives strength, stability and resources to Liberty, which will culminate in Liberty's further success in aircraft sales."" />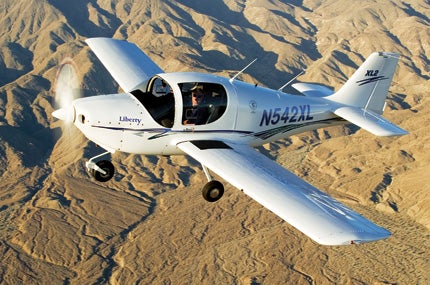 Liberty announced the closing of a major debt financing, arranged by Kuwait Finance House (Bahrain), which will allow the company to expand its production capacity. "The decision to raise finance was based on the strong worldwide demand for Liberty's XL2 aircraft," said the General Manager of Kuwait Finance House, Abdulhakeem Alkhayyat. "The finance is important, as it gives strength, stability and resources to Liberty, which will culminate in Liberty's further success in aircraft sales."

Florida Institute of Technology's School of Aeronautics has taken delivery of its first Liberty XL2. It will be used for primary and instrument training and will be available to students as well as the general public. The school's dean, Dr. Ken Stackpoole, stated, "We welcome Liberty aircraft to our flight line and look forward to working with fellow airport residents to encourage community participation in aviation and Florida Tech's flying programs." Go to www.libertyaircraft.com for more info.

Shadin Avionics
Shadin Avionics announced the development of a new design on the Engine Trend Monitoring system. The new ETM XL will include features such as USB thumb-drive downloading, extended memory capability and minimal airframe installation time. "We have designed the ETM XL to mount to the aircraft engine, and it can spend its entire life with that engine for trending and performance measurements," said Executive Director of Sales & Marketing Robert Randall. Learn more at www.shadin.com.

AeroShell Donates
AeroShell made a charitable contribution of $5,500 to EAA Young Eagles and $2,000 to Able Flight, which allows people with disabilities to gain greater self-confidence through flight training. "To be able to help people with disabilities, especially our wounded American heroes, and to enjoy this feeling of independence and self-reliance is definitely something that AeroShell wanted to be a part of," said AeroShell's U.S. Sales Manager Jerry Toenjes. By auctioning rides, AeroShell raised an additional $40,000 that will go to the Young Eagles and other youth-outreach programs. Visit www.aeroshell.com.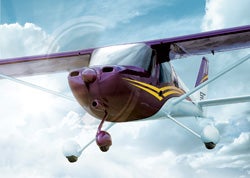 Parachutes On Cessnas
Cessna announced that it will offer a BRS (ballistic recovery system) parachute as an option on its C-162 Skycatcher. The two-seat LSA will also feature a Garmin glass cockpit, gull-wing doors and a new-style control stick. The parachute will sit aft of the seats. BRS also announced that its parachute systems will be made available for the entire family of Cessna piston singles. Stay safe at www.brsparachutes.com.

In another announcement, Cessna stated that it will offer Thielert's turbodiesel engine in its Skyhawk 172S aircraft, with deliveries to begin in mid-2008. The twin-cam, in-line, four-cylinder, turbocharged engine develops 155 hp, is certified to operate on Jet-A fuel, is liquid-cooled and drives a composite, three-blade, constant-speed propeller. Cessna will also make the Garmin GFC 700 Automatic Flight Control and Flight Director System standard equipment on most Skyhawk models beginning in January 2008. "We now offer the same fully integrated, all-Garmin system, from the Skyhawk through the Citation Mustang," said Cessna VP of Propeller Aircraft Sales John Doman. "Having the consistency in avionics eases the transition for our pilot owners." For more, visit www.cessna.com.
Page 1 of 4