Tuesday, May 22, 2012
July 2012 Readback
Cirrus Vision Jet: Full Speed Ahead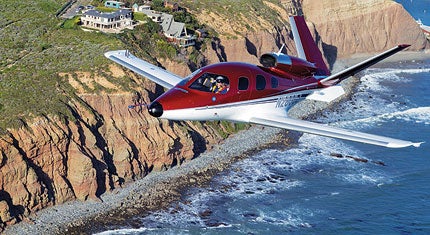 The Cirrus Vision SF50 personal-jet program is fully funded through certification and initial production, thanks to a major investment by its new owner, CAIGA. Cirrus anticipates the first customer delivery will take place in 2015. "Today is simply a tremendous milestone for Cirrus," said Dale Klapmeier, CEO of Cirrus Aircraft. "We revolutionized general aviation with the introduction of the SR20 just over a decade ago. With more than 5,100 SR-series aircraft delivered to date, pilots, entrepreneurs, families and aviators of all kinds have embraced our dream. Today, that dream is renewed as we are on the cusp of an even bigger leap with the Cirrus Vision." The first flight of the Vision concept aircraft was in 2008. Detail design, systems verification and full flight-envelope testing have been ongoing since that time. Through June 30, 2012, the list price for a well-equipped Cirrus Vision SF50 is $1.72 million, with list price moving to $1.96 million effective July 1, 2012. Visit
www.cirrusaircraft.com
.
Corporate Angel Network
Ronda Carter flew on Corporate Angel Network's (CAN) 40,000th flight from her home in rural North Carolina to meet with a breast-cancer specialist in New York. When asked about the flight, she said: "Cancer can make a person feel singled out in a negative way. Being the 40,000th passenger makes me feel singled out in a wonderful way. It's my first trip with CAN and my first corporate flight for treatment at Memorial Sloan-Kettering after being diagnosed with Stage IV cancer in January. I'm proud to be a milestone passenger." CAN arranges free air transportation for cancer patients traveling to recognized cancer-treatment centers throughout the U.S. by using the empty seats on corporate aircraft that are already flying to those destinations. Visit
www.corpangelnetwork.org
.
New King Schools Course
King Schools has released a new online Flight Instructor Refresher Course. "This FIRC moves away from reviewing the same topics that flight instructors learned as private pilots, and instead gives flight instructors more insight on issues such as identifying and changing at-risk behaviors and conducting an effective flight review," said John King. Additionally, King Schools says the FIRC is the first such course to incorporate a paperwork-free, completely online, renewal process. "Instructors will be able to complete the renewal requirements without ever having to move away from their computer, and will receive their temporary certificate by email," commented King. Visit
www.kingschools.com/firc
.
Bahamas Habitat Receives Airplane Donation
Thierry Pouille, president of Air Journey, donated his Beechcraft Baron E55 to Bahamas Habitat. Air Journey shows pilots the joy of flying in their own plane in small groups to destinations such as the Bahamas, Central America, Europe, South America and many others. Air Journey and the Baron aircraft were first involved with Bahamas Habitat last September, following the devastation of Hurricane Irene in The Bahamas. Through the direction of Neil Glazer of Pilot Mall, they teamed up with Bahamas Habitat to bring supplies and help to the devastated Cat Island. Prior to the donation, the Baron was the Pouille family aircraft since May 2000 and was used for travel to many beautiful destinations and exciting discoveries. "The work of our mission will be significantly benefited by this generous donation," stated John Armstrong, President of Bahamas Habitat. Visit
www.bahamashabitat.org
and
www.airjourney.com
.
Vision LSA
World Aircraft Company, based in Paris, Tenn., introduced their new Vision S-LSA. WAC president Eric Giles said, "We designed an airplane called Sentinel for surveillance and law enforcement with a huge cabin, incredible visibility and STOL capability. We then realized that such an airplane would also be desirable to GA pilots. We now manufacture a civilian version appropriately called Vision." Visit
www.worldaircraftco.com
.
Piper Growth
Piper Aircraft grew its new aircraft deliveries and sales revenue during the first quarter of 2012, which ended on March 31. Airplane deliveries increased more than 40% to 37 aircraft in the first quarter of 2012, from 26 airplanes during the first quarter of 2011. New aircraft sales revenue grew more than 20% to $31,578,203, when compared to sales of $26,159,703 during the same period the previous year. "Piper's performance in the first quarter of 2012 gives us a good start on the year. It also continues an upward trend in first-quarter results for the past three years," said Piper President and CEO Simon Caldecott. Visit
www.piper.com
.
Page 1 of 2