Tuesday, May 21, 2013
July 2013 Readback
The New Tecnam Astore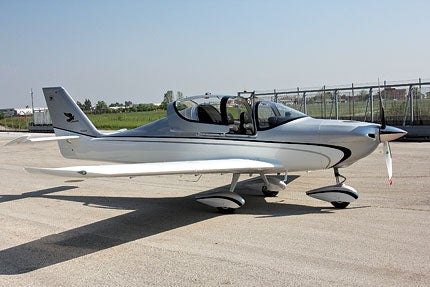 At Aero 2013, Friedrichshafen, Tecnam premiered its next-generation LSA, the Astore. The two-seat low-wing aircraft was developed by Tecnam's renowned Head of Aircraft Design, Professor Luigi Pascale, and named in honor of his first production aircraft, the P48 Astore. An iPad mini comes standard with each aircraft, and the Levil G Mini, using Wi-Fi, provides a full Primary Flight Display on the iPad mini using compatible third-party applications such as Air Navigation Pro or similar. The pre-installed app will also compute weight and balance and display checklists, and it includes a full POH. Customers can choose their engine to be the Rotax 912ULS, the Rotax 912iS or the Rotax 914. "We have built our reputation at Tecnam on producing airplanes that offer outstanding value, beauty and efficiency," said Paolo Pascale, Tecnam's Managing Director. "What better way to celebrate Tecnam's 65th anniversary than by offering our customers the very best next-generation LSA, the Tecnam Astore, designed to make flying a Tecnam aeroplane a most enjoyable flying experience." Visit
www.tecnam.com
.
Sennheiser S1 NoiseGard
The new S1 NoiseGard headset has good passive attenuation and features active noise-cancelling technology. Tiny microphones inside the ear cups pick up the remaining background noise, primarily low-frequency noise that the passive attenuation doesn't sufficiently address, such as engine noise. The NoiseGard electronic circuitry then generates "anti-noise" that cancels out the unwanted noise to a large extent. "A noise-cancelling pilot's headset is an important health and safety factor," confirmed Jörg Buchberger, Aviation Business Segment Manager. "In addition, we have equipped the headset with Peak Level Protection, a feature that protects the pilot's hearing against extreme volume peaks during radio communication." The headset features adjustable headband tension that allows pilots to adjust how tightly they want the headset to fit, as well as sunglass comfort zones in the ear pads. Visit
www.sennheiser.com
.
Aspen Avionics In Piper Seneca
Aspen Avionics announced that Piper Aircraft has selected the Evolution Backup Display system for its Piper Seneca V-series aircraft. The Evolution Backup Display is a fully digital independent flight display system designed to replace mechanical backup instruments used in Part 23 glass panel installations. The Evolution Backup Display functionality on the Piper Seneca includes attitude, altitude and airspeed tapes, rate of turn, slip/skid, VSI and heading. "Seneca pilots will appreciate the convenience and increased reliability of Aspen's Evolution glass backup display interface, which provides significantly better situational awareness than mechanical backup instrumentation," says Brad Hayden, Vice President of Marketing. "The Seneca is an ideal platform for the Evolution Backup Display to complete the total glass panel solution for this aircraft." Visit
www.aspenavionics.com
and
www.piper.com
.
Cessna Caravan Service
Cessna announced today that aircraft on ground (AOG) maintenance will now be available for Cessna's 208 model Caravan at all their factory-owned Citation Service Centers. Cessna's Mobile Service Units will also be allowed to perform AOG maintenance on Cessna's 208 model Caravan aircraft. The unscheduled maintenance can be coordinated through the Citation Service Centers located in Milwaukee, Wis., Orlando, Fla., Sacramento, Cal., and Wichita, Kan. "Offering AOG service gives additional confidence to our 208 customers through our Original Equipment Manufacturer (OEM) support at our locations," said Joe Hepburn, Cessna Senior Vice President of Customer Service. "Cessna has manufactured more than 2,000 of the Caravan series of aircraft, and expanding our service network capabilities provides a realistic solution for the owner's maintenance needs." Visit
www.cessna.com
.
Disney Screening At Oshkosh
Those attending AirVenture this year will have the opportunity to experience a special preview screening of Disney's
Planes
at the Fly-In Theater on Friday night, August 2, one week before the movie opens in theaters nationwide. "Disney's
Planes
is a great underdog story. It has a lot of heart and a message we can all use: If we can believe in ourselves, step out of our comfort zones and get past whatever fear that's holding us back, we'd be surprised with the results," said Director Klay Hall. "And that's exactly what happens to Dusty in this movie. He's a crop duster who's never flown above 1,000 feet, but he dreams of being the fastest air racer in the world. He has a lot of obstacles to overcome and needs to dig pretty deep to find the courage to become more than he was built to be. We're so happy to share the film with the passionate aviation community at AirVenture." Prior to the screening, Hall will talk about the making of the film with behind-the-scenes stories. Visit
www.disney.com/planes
and
www.airventure.org
.
Page 1 of 2