Saturday, July 1, 2006
July-Aug 2006 On The Radar
The latest sales figures from the General Aviation Manufacturers Association are sizzling! First quarter 2006 billings, which include pistons, turboprops and business jets, came in at $4 billion—the biggest first quarter in history. This year's sales were up a healthy 37.9% over the same period last year and early indications are that the trend will continue." />
More Satellite WX Coming
WSI Corporation announced that it's developing a system to enable aircraft to receive in-flight weather and entertainment via the SIRIUS satellite galaxy. Look for the rollout before the year's end. Find out more at
www.wsi.com
.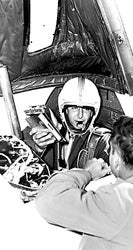 In Memoriam: Scott Crossfield
The worldwide aviation community mourns the loss of Scott Crossfield, legendary test pilot and aerospace pioneer. On April 20, Crossfield's body was found in the wreckage of his Cessna 210, northwest of Atlanta. There were severe thunderstorms in the area.
Having washed planes in exchange for flying lessons at age 12, Crossfield ultimately became the first pilot to fly at twice the speed of sound. He accomplished this feat on November 20, 1953, in a rocket-powered Douglas D-558-II. He was an active member of NASA's predecessor, the National Advisory Committee for Aeronautics, and subsequently played a major role in the development of the X-15 rocket plane, flying as a test pilot and working as a consultant. Crossfield died at the age of 84.
Page 5 of 5