Sunday, June 1, 2008
June 2008 Readback
Product Previews


Classic Aviator Watches
Revue Thommen, a Swiss watch and aviation instrumentation manufacturer, has been producing exquisite and high-quality watches for more than 150 years. From its roots as a pocket watch and wristwatch producer in the 1850s, it expanded to produce aviation instruments in the 1920s. The company's ergonomically designed and practical Airspeed line, consisting of the Classic, Xlarge and recently introduced Flyback Collections, reflects its tradition for technical accuracy and perfection. Among the Airspeed line's features are antireflective crystal faces, large day and date displays, a "Flyback" function and automatic chronographs. For more, call (800) 345-7599 or visit
www.revue-thommen.us
.

Wireless Chargers
WildCharge is poised to revolutionize electric-power delivery to mobile devices with its safe, wire-free, electric-power technology, which includes adapters for the Motorola RAZR V3, Apple iPhone, Apple iPod, BlackBerry Pearl and BlackBerry 8800. The wire-free WildCharger charging pad, winner of this year's CES Best of Innovations Award, is a sleek, flat charging pad that delivers up to 15 watts of power, capable of simultaneously charging up to four small devices, such as cell phones, MP3 players, digital cameras and similar electronic devices. For more, call (888) 494-5324 or visit
www.wildcharge.com
.

New From Garmin! GPSMAP 495
Spankin' new from Garmin, the GPSMAP 495 is for pilots who want many of the same features as the popular 496, but at a fraction of the cost. The 495 incorporates the same higher-resolution terrain database as is found in the 496 (but lacks the 496's weather features and City Navigator). The land graphics have more than 10 times as much data as other Garmin handhelds and vividly display proximity hazards. In aviation mode, the 495 offers terrain and obstacle alerting, pop-up alerts and customizable minimum clearance limits that give audible terrain alerts at specified altitudes. Smart Airspace automatically highlights airspace close to the pilot's current altitude. Like the 496, the 495 has an increased update rate that's five times faster than other handheld GPS devices. SafeTaxi and AOPA's
Airport Directory
help pilots navigate unfamiliar taxiways and airports. For more, call (800) 800-1020 or visit
www.garmin.com
.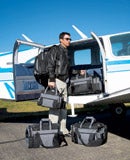 Flight Bags Get An Extreme Makeover
Responding to customer feedback, Sporty's top-selling Flight Gear bags have been redesigned from the ground up to offer improved organization. The new line, which consists of five different bags, has an all-new look and dozens of innovative features, including stronger, more-water-resistant fabric; ultrastrong metal hardware that won't bend or break; a stylish, two-color exterior; pockets for GPS, sunglasses, cell phone and other devices; movable organizers that allow you to customize your bag's interior; and a scratch-preventing, soft-lined interior. Flight Gear bags still feature double-stitched seams, a patented split-flap transceiver pocket that accommodates the antenna and a wraparound handle that can support weights in excess of 200 pounds. Padded pockets protect valuable headsets when you're not using them. Custom embroidery is available with up to three initials, and all Flight Gear bags come with an industry-leading six-year warranty. For more, call (800) SPORTYS or visit
www.sportys.com
.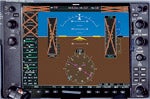 Instrument Covers Go Glass
New technology requires new products, and flight training is no exception. Sporty's has developed instrument covers to work with glass-panel airplanes—ideal for primary or instrument training. Designed for the Garmin G1000, these opaque, static-cling stickers cover sections of the primary flight display to simulate instrument failures for the attitude indicator, heading indicator, airspeed and altitude tape, and vertical speed indicator. Stickers can simulate warning alerts and caution alerts, such as low oil pressure, low voltage or low fuel. For more, call (800) SPORTYS or visit
www.sportys.com
.

Aviation-Themed Jewelry
AvShop has just developed and released a new line of aviation-themed jewelry. Intended for aviation buffs who like to look good while flying, the line includes earrings, necklaces and complete sets. The Sterling Silver line includes biplane-, taildragger- and attitude-themed pieces. The 14K Gold Line features Twin Commanche, P-51 and Cessna pieces, as well as propeller-themed jewelry. For more, call (866) 9AVSHOP or visit
www.avshop.com
.
Page 2 of 2