Monday, March 1, 2004
Mar-Apr 2004 On The Radar
Looking Up
The spike in aviation activity isn't limited to the kerosene crowd. Despite the recent bankruptcy of OMF GmbH, makers of the Symphony 260, most general-aviation aircraft makers are in a pretty good mood about the fiscal prospects of 2004. Lancair rolled out its 100th Columbia just days after the powered flight centennial celebration in Kitty Hawk and is chipping away at a sizable backlog of orders. The company has added 40,000 square feet to its Bend, Ore., facilities, and expects to up production to one complete aircraft a day later this year. Cirrus averaged two aircraft sales a day in the final months of 2003 and is ramping up its production to complete the same number of aircraft each day. The Cessna singles factory reports a big leap in activity, and New Piper indicates 2004 sales are healthy as well. The company is also celebrating the 20th birthday of its PA-46 Malibu Mirage and Meridian. Interest rates, projected to remain lo w throughout the year, plus new aviation technologies, are expected to stimulate new aircraft purchases for the remainder of the year.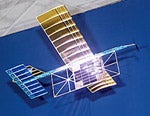 Look, Ma! No Gas!
Pilots who've had the often dramatic learning experience of trying to fly airplanes without gas are making room for some more members, this time from NASA. Since the beginning of powered flight, aircraft have always dragged fuel along with them—whether in the form of batteries, avgas, solar cells or even bicycle pedals. But a team at the Dryden Flight Research Center is flying an airplane powered solely from ground-based lasers.
The high-powered beam of light actually tracks the aircraft in flight, directing its energy at especially designed photovoltaic cells. "This is the first time that we know of that a plane has been powered only by the energy of a laser light," says Robert Burdine, the laser project test manager.
But don't give up your place in line at the gas pumps yet. The balsa wood/carbon fiber/Mylar airplane is only flying indoors. And just like the smaller airplanes we all fly, with this five-foot wingspan model come some pretty serious useful load restrictions: Max gross is only 11 ounces. Contact the NASA Dryden Flight Research Center at (661) 276-3311 or log on to
www.dfrc.nasa.gov
for more info.
Page 4 of 4