Wednesday, March 1, 2006
Mar-Apr 2006 On The Radar

Sino Swearingen Aircraft Corporation is celebrating a well-deserved FAA certification for its SJ30-2 business jet. Approved for day/night/VFR/IFR single-pilot ops, the new speedster reports a cruise speed that exceeds 460 knots. Passengers will enjoy a sea-level cabin pressure all the way to FL410, and the SJ30-2's max altitude is another 8,000 feet higher. The "entry-level" jet will compete with the Cessna Citations and Raytheon Premier I. Sino Swearingen says that customer deliveries are forthcoming. For more, log on to www.sj30jet.com or call (949) 851-0900." />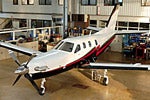 EADS Socata TBM 850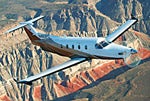 Pilatus PC-12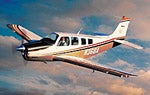 Bonanza G36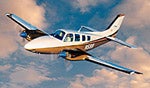 Baron G58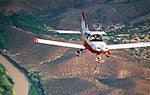 Tiger
Turbine Talk
EADS Socata just revealed its new six-seat TBM 850, a significantly upgraded version of the popular 750. The company claims that the pressurized, single-engine turboprop's performance will nearly match the projected numbers for many upcoming VLJs, except with more friendly operating costs. The TBM 850 should cruise at a maximum 320 knots at FL260, about a 20-knot increase over the older version. Deliveries on the estimated $2.5 million plane are scheduled to begin in the first quarter of 2006. See the airplane at
www.socata.eads.net
or call (954) 893-1400.
PC-12...And A Half?
The flagship Pilatus PC-12 has improved its performance, handling and comfort this year. The newest iteration allows for 530 more pounds of useful load and also adds winglets for a 72% reduction of control forces at higher speeds. Improved creature comforts include better seats for the crew and "warmer" LED cabin lights. Learn more from
www.pilatus-aircraft.com
or call (303) 465-9099.
New Barons And Bonanzas!
Celebrations continue in Wichita, Kan., where Raytheon is busy delivering its newly certified pistons, the Bonanza G36 and Baron G58. Both aircraft were given their new monikers to reflect the all-glass Garmin G1000 instrument panels recently certified by the FAA.
Raytheon announced the upgrade to its Beechcraft line at Oshkosh 2004. The new iteration of these piston classics incorporates Garmin's new GFC 700 autopilot, Mode S transponder with Traffic Information Service, XM data-linked weather and entertainment channels, plus the new GWX68 color weather radar. Factory options include the L-3 SkyWatch 497 Traffic Advisory System, the L-3 Stormscope Lightning detector, which shows up on the aircraft's multi-function display, as well as a Honeywell KN63 DME for use with Nav 1 or Nav 2. Raytheon reports that it has received a substantial customer response. For more, visit
www.hawkerbeechcraft.com
or call (316) 676-5034.
Happy, Happy Birthday
The Douglas DC-3, one of the world's most inexhaustible airplanes, marked its 70th anniversary last December. Santa Monica, Calif., the DC-3's birthplace, was the site of one of the most significant celebrations. The event featured a fly-over and fly-in of three of the vintage airliners, including the National Aviation Hall of Fame's (NAHF) kid-friendly
Duggy
. Members of the Donald Douglas family, along with celebs like Cliff Robertson and Bob Hoover, enjoyed live swing music inside an original Douglas hangar.
Of course, the star of the show was the big, bright and yellow
Duggy
, which led the other DC-3s on a circuitous tour of Los Angeles airspace prior to landing for the celebratory event in Santa Monica.
Duggy
is the NAHF's flying ambassador, a "spokesplane," if you will, for the SkyReach education program. The DC-3 toured the country last year to inspire kids about aviation and to educate them about the accomplishments made by hundreds of honored NAHF inductees. Learn more from
www.duggy.com
or call (614) 783-6801.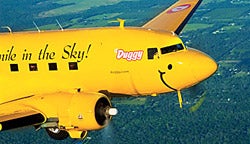 Page 2 of 3