Saturday, March 1, 2008
Mar-Apr 2008 On The Radar

TBM 850 Gets Garmin G1000 And Other Improvements
When EADS Socata introduced the more-powerful TBM 850 to replace the popular, competent and fast TBM 700C in late 2005, even Socata didn't anticipate the huge sales increases the new model would tally (some 150 had been sold by year-end 2007, and 2008 production was sold out by the first of the year) in the primary U.S. market and especially in the rest of the world.

Enjoying recent record backlogs, one would think Socata would be happy to just rake in orders, but the company announced an upgrade to the machine's only vestige of 20th-century tech and presented us with a full Garmin G1000 panel, where two 10-inch PFDs flank a huge 15-inch MFD, providing acres of information, including datalink Wx, online POH and checklists, and other material customized for the TBM. The large old annunciator panel is gone; the glass display warns in yellow of things that need attention, and in red of anything that poses danger.

The newest TBM 850 gets additional improvements: weight savings in avionics and detail modifications allow a usable fuel increase from 281.6 to 292 gallons (301 U.S. gallons total); range is now 1,466 nm (NBAA reserves) or 1,580 nm (standard IFR reserves). TBM has added two storage compartments, including the reintroduction of its forward luggage compartment, some 50 inches wide; air-conditioning is now a quieter, more-efficient, engine-driven Liebherr unit, common on airliners but a first in this class of airplane. Better cabin air routing, luxury leather appointments, a new paint scheme, an entertainment system and new cosmetics round out the newest TBM 850's equipment list. Pulselite anticollision lighting is also an option.

Price is for delivery in 2009, as 2008 production is all sold out: $2,919,850 with standard equipment; the "average" price (including popular options) will be $3,082,710 in today's dollars. For more, log on to www.tbm850.com.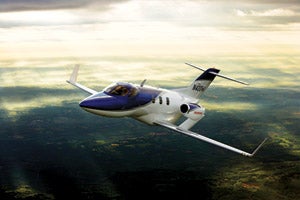 GE Honda Breaks Ground In North Carolina
The all-new GE Honda HF120 turbofan will be produced in Burlington, N.C., for certification in 2009. The 102,400-square-foot Honda Aero facility will consist of 36,000 square feet of office space, a 58,400-square-foot production plant and an 8,000-square-foot engine test cell. It will be manned by some 70 associates when it reaches its design capacity of 200 GE Honda engines, which are initially promised to the HondaJet and the Spectrum S-40 Freedom VLJs.

Honda Aero is yet another company under Honda Motor Company, set up as a joint venture with General Electric. The impetus for the new engine came initially from the development of the HondaJet, to be produced in nearby Greensboro, N.C., by another wholly owned subsidiary, Honda Aircraft Company.

The HondaJet prototype has been flying with the HF120's predecessor, a pair of HF118s, and those engines have accumulated some 4,000 hours of test cell and flight operation.

The 1,880-pound thrust HF120 (as planned for the HondaJet), with a bypass ratio of 2.9:1, is designed to set new standards in specific fuel consumption and quiet operation, and is expected to be only the first production engine from the 50/50 GE/Honda collaboration, which plans to produce a series of engines in the 1,000- to 3,500-pound thrust class. For more information, log on to www.gehonda.com.
Page 4 of 4