Tuesday, January 27, 2009
March 2009 Readback
A Diamond In The Rough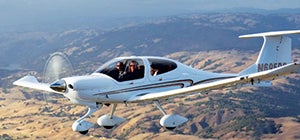 A Diamond In The Rough
In spite of the difficult economy, Diamond Aircraft has announced large new orders. Saint Louis University's Parks College of Engineering, Aviation & Technology has added nine new Diamond DA20-C1 aircraft to its flight-training department. Parks College, founded in 1927, was the first certified school of aviation in the United States.
The U.S. Air Force Academy has ordered 20 Diamond DA40 CS aircraft for its Powered Flight Program, a course that utilizes academic study and flight training to introduce cadets to the USAF's core aviation mission. Visit
www.diamondaircraft.com
,
www.slu.edu
and
www.usafa.af.mil
.
Several corrections to "
The Hottest Four-Seaters
" [January/February 2009] follow: The Diamond DA40 XLS is the latest model; we incorrectly listed this as the DA40 XL. Maximum cruise speed for the DA40 XLS is 157 knots; at 10 gph, cruise speed is 150 knots. A base DA40 (CS model with G1000) starts at $259,950, and it has a useful load of 900 pounds; full fuel payload is 660 pounds. For full details, visit planeandpilotmag.com.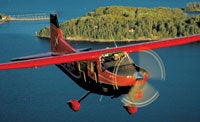 Expedition U.S. Certification
Found Aircraft Canada has been granted FAA type certification for the E350, which includes both day and night VFR and IFR for the tricycle-gear E350 and the E350 with Aerocet 3400 and 3500L floats installed. "Certification of the E350 is the culmination of over two years of development by our dedicated team of employees and suppliers who worked hard to make this day happen," said Drew Hamblin, director of marketing and sales. Visit
www.foundair.com
.
New Cubs At Tutima
Sean D. Tucker's Tutima Academy of Aviation Safety is the new California dealership for CubCrafters. Visit
www.tutimaacademy.com/cubcrafters.html
to get your Sport Cub, Top Cub or Carbon Cub Kit.

Flying Salukis Champs
The Flying Salukis of Southern Illinois University-Carbondale finished first in five of nine events to win their second consecutive regional title at the National Intercollegiate Flying Association (NIFA) Region VIII championships, held in November 2008 at the Southern Illinois Airport. "We really went out there and had a good showing," said head coach Nathan J. Lincoln, a senior lecturer in the Department of Aviation Management and Flight. Visit
www.siuc.edu
.
Page 1 of 3