Tuesday, January 27, 2009
March 2009 Readback
A Diamond In The Rough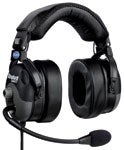 ANR Technology For Helicopter Pilots
With the Stratus Heli-XT, Telex has created a headset that specifically addresses the needs of helicopter pilots and passengers. Key features include ANR technology, Telex's patented ComfortCam system, an advanced FlexPower management system and individual volume controls for each ear cup. The headset comes with a five-year warranty.
Contact:
Telex, (877) 863-4168,
www.telex.com/aircraft
.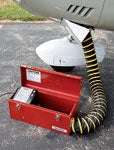 Streamlined Engine Preheating
The days of lugging around bulky engine preheaters are a thing of the past. Sporty's SureStart Electric Pre-Heater weighs just 16 pounds yet provides 20,000 BTUs of heat. It's capable of preheating most aircraft engines from 10 degrees F to starting temperature in only 45 minutes. The SureStart Electric Pre-Heater plugs into a standard 110-volt outlet and uses less than 15 amps.
Contact:
Sporty's, (800) SPORTYS,
www.sportys.com
.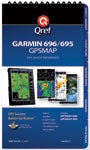 GPSMAP 696/695 Checklists
Qref offers the first and only checklists for the new Garmin GPSMAP 696/695. Checklists come in two varieties: a multipage book that's tabbed into sections or a single-page card (for users familiar with the unit) that contains abbreviated info on the most-used features. They're printed in full color and are virtually indestructible. In addition to the 696/695, checklists are available for other systems by Garmin, Lowrance, Bendix/King, Avidyne, Cirrus and Diamond, among others. New releases are added regularly.
Contact:
Qref Media, (877) 660-QREF,
www.qref.com
.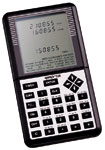 The Electronic E6B Just Got Better
In addition to its 20 aviation functions and 14 aviation conversions, Sporty's electronic E6B has been updated with three new functions. Required Rate of Descent tells you just that. Top of Descent tells you how far out to begin your descent, and Specific Range finds the most fuel-efficient cruising altitude. It operates on just three AAA batteries and is authorized for use during FAA knowledge exams.
Contact:
Sporty's, (800) SPORTYS,
www.sportys.com
.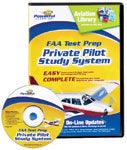 Powerful Learning Software
All of the tools you'll need to prepare for your private pilot flight test and FAA knowledge test (airplane only) are available from Powerful Learning software. This is the only software that includes an integrated aviation library that can be updated online! Multiple software versions are available, including
Private Pilot, VFR Pilot, IFR Pilot
and
Instrument Pilot Study Systems
.
Contact:
Aircraft Spruce, (877) 477-7823,
www.aircraftspruce.com
.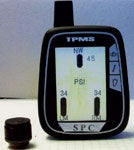 Wireless Tire Pressure Monitor
Southern Precision Components introduces its Wireless Tire Pressure/Temperature LCD Monitor (TPMS). With the flip of a switch, this battery-operated handheld displays the actual tire pressure and tire temp. Small, removable, electronic valve sensors transmit pressure and temperature to the LCD monitor within 25 to 50 feet of the aircraft. The monitor also has an alarm setting for high or low pressure. The battery has an average life of two years, and the TPMS comes with a one-year warranty.
Contact:
Southern Precision Components, (706) 376-7308,
www.southernprecisioncomponents.com
.

Lookin' Good
Family-owned Planewear Apparel, launched by former flight attendant Jennifer Longley, offers comfortable, unique travel-related apparel with an aviation theme for children. The clothing is manufactured from high-quality 100% Peruvian pima cotton and is designed to provide first-class comfort to future pilots and aviators. Children's garments run from infant through toddler and up to size six.
Contact:
Planewear Apparel, (866) 759-2358,
www.planewear.com
.

Time For An Island Vacation?
There are more small airports per square mile of land mass in the Bahamas and Caribbean than in any other region in the world, and they're all in the
2009 Bahamas & Caribbean Pilot's Guide
. After 31 years in print, this 450-page, spiral-bound guide is the only single-source reference for island travel in the area. The guide is organized into tabbed sections for quick, easy use.
Contact:
Pilot Publishing, (800) 521-2120,
www.flytheislands.com
.
Page 3 of 3