Tuesday, January 26, 2010
March 2010 Readback

Top Stories
First Tecnam P2008 Delivered To U.S.
In April 2009, Italian aircraft manufacturer Tecnam unveiled its P2008 high-wing LSA, which combines an advanced carbon-fiber fuselage with a metal wing and stabilator. The company just shipped the first P2008 to Heart of Virginia Aviation in Richmond, Va., its U.S. distributor. The sleek two-seater is a fit for both U.S. LSA and European ULM categories, and is expected to be on the market by mid-2011.
Tecnam, one of the biggest LSA manufacturers, with 3,000 ready-to-fly aircraft—120 in the U.S.—recently acquired Spain's Composite Aeronautic Group, which built the beautiful composite Toxo LSA. The P2008 thus benefits from composite and all-metal construction and joins Tecnam's other LSA: the P92 Eaglet trainer, P2002 Sierra and P2004 Bravo. Visit
www.tecnam.net
and
www.flyhova.com
.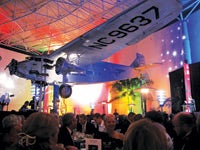 Legends Honored
On November 21, 2009, the San Diego Air & Space Museum honored air and space legends at its 46th Hall of Fame Induction and Gala. The Distinguished Class of 2009 includes Sally Ride, the first woman in space; air show performer Sean Tucker; Clay Lacy of Clay Lacy Aviation; the Lockheed Brothers and Skunk Works; the Blue Angels; Academy Award–winner and aviation ambassador Cliff Robertson; Women Airforce Service Pilots; and Frank Robinson of the Robinson Helicopter Company. "We're especially pleased to honor the Class of 2009 because these pioneers have not only pushed back the frontiers of air and space exploration, they've also become strong, positive role models for today's youth," said Jim Kidrick, the museum's president and CEO. Visit
www.aerospacemuseum.org
.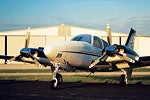 Hartzell Signs Deal With Hawker Beechcraft
Hartzell Propeller has signed an agreement with Hawker Beechcraft Corporation to serve as the exclusive supplier of constant-speed propellers to all of its new piston and turboprop commercial aircraft. The deal is for a minimum of five years, and covers the full range of new Hawker Beechcraft aircraft: the G36 Bonanza, G58 Baron and King Air C90GTx, B200GT and 350i. Visit
www.hartzellprop.com
and
www.hawkerbeechcraft.com
.
Page 1 of 4