Tuesday, March 26, 2013
May 2013 Readback
Cessna TTx First Production Flight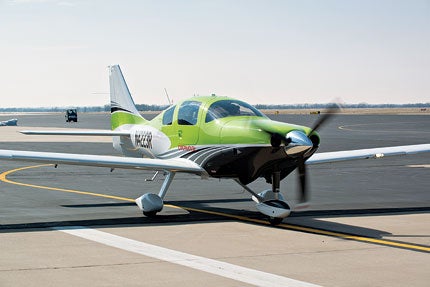 Cessna Aircraft's Cessna TTx completed its first production flight on Saturday, March 2, departing from the Cessna facility in Independence, Kan. "The TTx performed exceptionally well," said Brian Steele, business leader for the TTx. "The pilot took the aircraft to 17,000 feet and achieved a speed of 213 knots." Cessna announced they had started production of the TTx at the Sun 'n Fun air show in Lakeland, Fla., in 2012. During the development process, the TTx has flown 275 flights and logged 339 hours in the air. "Being able to celebrate the maiden flight of the first production TTx is a rewarding experience for everyone who has helped with making the TTx a reality," said Jodi Noah, Cessna's senior vice president of propeller aircraft. "This program has many passionate followers, and this is a moment we've all been eagerly anticipating. Congratulations to the team for delivering on Cessna's promise and for taking this next step toward delivering the TTx to the marketplace." Visit
www.cessna.com
.
Piper Selects Garmin G1000 For Seneca V
Piper Aircraft has selected the G1000 integrated flight deck for its twin-class Seneca V model introduced at the Australian International Airshow. "We have a strong longstanding partnership with Piper Aircraft, and we are honored by the confidence they continue to show in Garmin avionics," said Carl Wolf, Garmin's vice president of aviation sales and marketing. "With the G1000-equipped Seneca V, all new production Piper MClass and Twin-Class aircraft will now feature a Garmin integrated flight deck, and we look forward to continuing to serve Piper owners and operators with best-in-class cockpit solutions." Visit
www.garmin.com
.
First Flight Of SAM LSA
On February 26, 2013, at Lachute Airport near Montreal, Quebec, Canada, the first flight of the new LSA from SAM Aircraft took place. "Liftoff was perfect, in about 300 feet," said Thierry Zibi, president of SAM Aircraft. "We were not at gross weight, so our climb of nearly 1,300 fpm felt like a rocket." The 21-minute flight covered the basics: 30-degree banks, straight flight and gentle control. "There is a lot more to test," said Zibi, "but all indications are that the aerodynamics are exactly what we have expected all along." The SAM LSA is a tandem retro-warbird-look metal aircraft powered by a 100 hp Rotax 912S. Visit
www.samaircraft.com
.
Team Chambliss App
Air show star Kirby Chambliss' new app is now available for iPhone, iPad and Android. It's free and lets you stay in touch with the team by checking out their schedule, photos and latest news. Visit
www.appcat.com/teamchambliss
.
Living Legends Recognize Aspen Avionics
ohn Uczekaj, CEO of Aspen Avionics, was awarded Aviation Entrepreneur of the Year by Living Legends of Aviation at their gala event on January 18, 2013. Uczekaj was selected for this award to acknowledge his leadership in guiding Aspen Avionics from a brand-new startup operation through developing the company into an avionics industry leader, all the while securing ongoing investments to fund new products. "This award came as a complete surprise to me," said Uczekaj. "The general aviation industry has long been known for its talented and dedicated people, so I am deeply humbled to be honored amongst so many great names in aviation. I came to Aspen six years ago for the opportunity to build the next major player in the avionics industry. The company's entrepreneurial spirit is key to that success, and it is what keeps us innovating and moving forward. Every day, I focus on keeping that spirit alive at Aspen." Visit
www.aspenavionics.com
.
Page 1 of 2