Tuesday, May 1, 2007
May-June 2007 On The Radar

The prototype Next Generation PC-12, which is slated for certification at the end of 2007, has completed its first transatlantic journey from Switzerland. On its way to the United States, it stopped in Iqaluit, Canada, for a series of cold-weather trials before continuing on to Pilatus' North American headquarters in Broomfield, Colo." />
Record-High Industry Billings
Calling 2006 a "banner year," the General Aviation Manufacturers Association (GAMA) reported that last year saw record numbers, with increased shipments of every type of general aviation aircraft. Billings totaled an all-time high of $18.8 billion, representing a 24.1% increase over 2005. Shipments of piston aircraft increased 11.6%; turboprops jumped 11.5%, with 407 models shipped; and business jet shipments rose 18%, with companies moving a total of 885 units.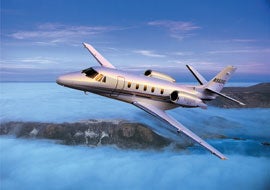 Cessna Aircraft Company shipped a total of 307 Citation variants and sold 73 copies of their Citation XLS, already the world's best-selling business jet. Their shipments of piston aircraft reached 865, up from 822 in 2005. Piaggio Aero shipped 19 of their high-performance Avanti IIs. Raytheon delivered 280 copies of various model King Airs, Hawkers and their Premier Jet, and Piper Aircraft pushed 31 Malibu Mirages and 49 turboprop Meridians out the door.
The future looks bright. "As our manufacturers continue to fill their order books, GAMA anticipates another robust year for general aviation in 2007 and beyond," said GAMA Chairman Dr. John Grisik. More details on GAMA's reports are at
www.gama.aero
.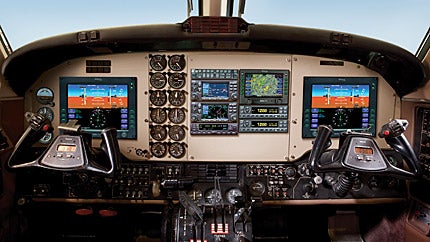 Avidyne And S-TEC Deliver First King Air 200 With Alliant's Integrated Cockpit
Avidyne (
www.avidyne.com
) and S-TEC (
www.s-tec.com
) have delivered the first King Air 200 retrofitted with the Alliant Integrated Flight Deck. The installation, in a 1979 King Air 200, also realized an exceptional 368-pound increase in useful load with the replacement of the old avionics. Avidyne and S-TEC have also received an FAA STC for Alliant installation in King Air 90-series aircraft.
The Alliant Integrated Flight Deck for the Beechcraft King Air family is the first implementation of Avidyne's Envision series of retrofit integrated flight deck products and S-TEC's IntelliFlight 2100 Digital Flight Control System. The Alliant Integrated Flight Deck enables King Air owners to update their aircraft with state-of-the-art situational awareness and safety tools at a fraction of the cost of a new aircraft.
The standard Alliant Integrated Flight Deck package includes dual-redundant Avidyne EXP5000 10.4-inch PFDs, an Avidyne EX500 MFD, the S-TEC IntelliFlight 2100 digital autopilot, two-inch Mid-Continent standby instruments, and interfaces to most popular traffic, terrain, lightning and radar altimeter systems.
Page 2 of 5