Thursday, November 1, 2007
Nov-Dec 2007 On The Radar
XLS+ Completes First Flight

The latest version of the world's best-selling business jet model, the Citation XLS+, recently completed its first flight. "With the flight progressing as planned and the aircraft performing as expected, this first flight was a great success," said Cessna Citation XLS+ Program Manager Kevin Steinert. "The integration of the new Collins Pro Line 21 and Pratt & Whitney's FADEC-equipped engines went smoothly, and we look forward to continuing this program on schedule."" />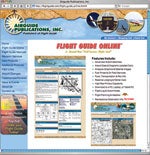 Airguide Launches Flight Guide Online
Airguide Publications has introduced Flight Guide Online, a new full-service flight tool. With Flight Guide Online, pilots have access to up-to-date airport and supplementary information with just a click from their home computer, laptop, tablet PC or anything else that accesses the Web. Flight Guide Online doesn't replace the Flight Guide manual; instead it complements flight-planning efforts and the researching of fly-in destinations.

Flight Guide Online gives pilots the ability to locate airports by searching in-depth airport data, services, fuel, food, transportation, lodging, recreational information and more. In addition, clear and concise airport diagrams and airspace graphics and photos can be enlarged and printed in various sizes.

Airport data and diagrams are updated daily by Airguide's team of researchers, which helps ensure access to airport information that's more current than a printed source.

Flight Guide Online will also help you find a nearby restaurant, hotel or car-rental agency. Phone numbers and mileage from the airport are included for each listing; the "Make Reservations" link allows you to view availability and rates and make reservations for your favorite hotel and car-rental agencies.

A basic flight planner—courtesy of FlightPrep, makers of ChartCase Professional—is included in the member service. Members can access current weather and display surface analysis, weather depictions, composite moisture-stability charts, infrared satellite images, U.S. radar and 12- to 72-hour weather forecasts. Log on to www.flightguide.com for more info.
Page 6 of 6