Tuesday, September 22, 2009
November 2009 Readback
Top Stories

Mooney Wins Ultimate Challenge!
A Mooney Acclaim M20TN took first prize in Category C of the Ultimate Challenge Air Race, held August 15 in South Africa. Mooney ZS-ACC (piloted by Patrick Hanly of SA Mooney) flew the 297.32 nm course in 1:30:44. The inaugural run of the Ultimate Challenge Air Race began and ended at Rustenburg Airfield, about 40 miles northwest of Johannesburg. Aviators were permitted to use a GPS device and carry as much fuel as they wished. Each aircraft had a GPS logger to ensure that the course was followed and timing recorded. Frikkie Greefe, owner of the winning aircraft, said, "We were thrilled with the results and plan to be back next year for sure." Visit
www.mooney.com
.
First G3-R9 Cirrus Deliveries
Avidyne recently announced that Leading Edge Aviation Services of Tampa, Fla., and Lone Mountain Aviation of Las Vegas, Nev., both delivered their first G3-R9 Cirrus aircraft. Launched by Avidyne and its key dealers, the G3-R9 program provides for-sale, late-model Cirrus SR22s with the Entegra Release 9 Integrated Flight Deck already retrofitted. "I saw this as a great opportunity to move up to a G3 Cirrus with the new wing, air-conditioning, improved performance and very-low-time engine, and the guys at Lone Mountain found me a great airplane and did the retrofit of Release 9 before I took delivery," said G3-R9 customer Robert Miller. Visit
www.leadingedge aviation.com
,
www.lonemountainaviation.com
,
www.cirrusaircraft.com
and
www.avidyne.com
.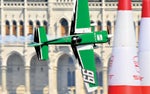 First-Time Win For Goulian
On August 20, American Michael Goulian took first place at the fourth stop of the 2009 Red Bull Air Race World Championship, over the Danube River in Budapest, Hungary. Demonstrating the capabilities of a new, more powerful engine at 224 mph, Goulian had the best run time in the 4.1-mile race's final round (1:12:51). "It feels amazing," Goulian said. It was his first career victory and moved him to eighth place overall. "This has been four years in the making. It has been so hard to get the right machine, to get the engine working the right way… It's a great win." British pilot Paul Bonhomme took second place and American Kirby Chambliss took third, beating consistent front-runner Austrian Hannes Arch. Visit
www.redbullairrace.com
New Capabilities For Flight Design
Flight Design Technik has developed two products for the Flight Design CT series. The company produces custom parts for hands-only control of the CT, plus an underside cargo pod that can hold a wheelchair, folding bike or other items that are too large to store in the LSA's main baggage area. "The modified control stick has two grips," explained Flight Design Technik's Frank Borrman. "The right handle is fixed and equipped with a push-to-talk button and a switch for throttle control. The left is moved forward for right rudder control and rearward for left rudder. As the left-side handle is moved, both rudder and nosewheel are controlled." Visit
www.flightdesign.com
and
www.flightdesignusa.com
.

Cessna 210 Upgrade
Sierra Industries now offers the Sierra Super Centurion program to upgrade the Cessna Centurion fleet. The upgrade combines modern avionics with modifications such as Sierra's R/STOL system, gear-door conversions and custom single-piece panel. Installation times vary from four to six weeks; to decrease downtime, Sierra's exclusive "Fly-Thru" maintenance program provides a loaner aircraft while mods are performed. The upgrade is applicable to all Cessna 210, T210 or P210K, L, M, N or R aircraft. Paint and interior refurbishment and inspection/repair services also are available. Visit
www.sijet.com
.
Page 1 of 3