Tuesday, September 18, 2012
November 2012 Readback
Icon & Cirrus Partner On A5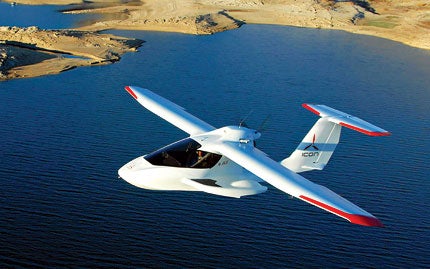 Icon Aircraft and Cirrus Aircraft announced that Cirrus will become one of the key strategic supplier partners for the Icon A5 amphibious light-sport aircraft. Cirrus will produce a significant portion of the composite airframe components for Icon. "Cirrus has a global reputation for producing truly outstanding composite aircraft structures," said Kirk Hawkins, CEO of Icon Aircraft. "Their extensive experience, specifically in composite-sandwich production techniques, makes them an ideal production partner. We are thrilled that Cirrus is demonstrating their commitment to growing aviation at the consumer entry point through this collaboration with Icon." All composite structures produced by Cirrus for Icon will be manufactured in the Cirrus Grand Forks, N.D., factory alongside the SR20 and SR22 component production lines. Icon will control all design, system integration, final assembly, finishing and testing at its facility in Tehachapi, Calif. Composite component production will begin at the end of 2012, and the first production aircraft will be completed in the summer of 2013. Visit
www.iconaircraft.com
and
www.cirrusaircraft.com
.
LogTen Pro
Coradine Aviation Systems, makers of LogTen Pro for Mac, iPhone and iPad, has been chosen as the recommended electronic logbook for the Flying Like The Pros online training program, which has over 50 individual instruction videos that focus on scenario-based training. "We chose LogTen Pro for iPad because it is the most comprehensive and intuitive electronic logbook on the market," said Flying Like the Pros CEO and 2010 National CFI of the Year Jeffrey Robert Moss, "MossY." "The result is a Logbook that can grow with GA pilots throughout their flying lives, whether they continue to fly for recreation or move on to become instructors, commercial, military or airline pilots." Visit
www.coradine.com
and
www.flyinglikethepros.com
.
Cessna & US Aviation
US Aviation was appointed by Cessna Aircraft as an Authorized Customer Service and Support Facility. This designation means US Aviation, in Denton, Texas, has met stringent knowledge and capability requirements and has invested in the proper tools and equipment necessary to perform Cessna- authorized service, repairs and warranty service. Bill Glenn, Field Service Engineer for Cessna, said: "US Aviation has a beautiful, well-equipped facility that meets Cessna's high standards. We look forward to better serving our customers through US Aviation." Visit
www.usaviation.aero
.
Cirrus For French Air Force
Cirrus SR20s and SR22s have been selected by Cassidian Aviation Training Services (CATS) in a public tender for the French Air Force and Navy. A fleet of 13 Cirrus SR20s will be dedicated for training pilots at the French air-force base of Salon de Provence. An additional fleet of seven Cirrus SR22s will be dedicated to training flights of navigating officers arm systems (NOSA) and liaison flights, in particular to accompany the French Air Force's aerobatic team. Cirrus Vice President, Global Fleet and Special Mission Aircraft Sales, Jon Dauplaise, said, "The French Air Force and CATS are committed to the highest quality of flight training. By using our SR20s and SR22s—aircraft that set the standards for training and advanced performance—they're setting the standard for the highest-quality air force." The first SR20 was delivered in Salon de Provence on August 9 and the first SR22 will be delivered in September. Delivery will continue through the end of 2012. Visit
www.cirrusaircraft.com
.
Page 1 of 3