Monday, October 1, 2007
October 2007 Readback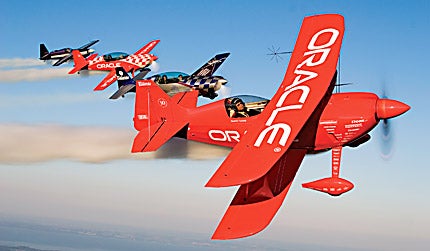 Oshkosh 2007
More than 560,000 visitors and 10,000 airplanes flocked to Oshkosh, Wis., for EAA AirVenture 2007. There was something for everyone, including daily air shows featuring performers such as the Red Barons, Patty Wagstaff and Michael Goulian. The Collaborators (pictured above), a team of aerobatic pilots Sean Tucker, Bill Stein, Eric Tucker and Ben Freelove, debuted their new, dynamic four-ship formation sequence. On the ground, attendees checked out new aircraft and hot gadgets at hundreds of exhibitor display booths. There were even a few surprises. Here are some of general aviation's latest and greatest:

Sport Cub Series 2
CubCrafters premiered its Sport Cub S2 aircraft at Oshkosh. New features include second-generation airbags by AmSafe as standard for pilot and copilot; lighter weight plus stronger material (40 new carbon-fiber and composite parts); increased horsepower (AWI "4 into 1" exhaust system); new cabin door; new tailwheel; new engine mount; optional AOSS landing gear; new paint scheme and much more. "Sport Cub S2 uniquely answers the demand for more because S2 is a Super Cub that you can fly without a medical and it forever leaves the open-cowled, J-3 type Cub aircraft behind," remarked CubCrafters Vice President Todd Simmons. Visit
www.cubcrafters.com
.

Bendix/King
Honeywell announced the development of an MFD that will incorporate GPS and WAAS capability as well as a new software-based VHF communication and navigation radio. The 5.7-inch diagonal display features control inputs including hard keys, line select keys and a cursor control device. Certification of the system, the Bendix/King KSN 770, is expected in late 2008. Also in the works by Honeywell is a new PFD system, the Bendix/King KFD 840. The unit will be an 8.4-inch LCD, which can be retrofit into older aircraft. To learn more, visit
www.honeywell.com
.
Page 1 of 6