Tuesday, August 25, 2009
October 2009 Readback
PRODUCT PREVIEWS

Personal Avionics System At Your Fingertips
Bendix/King's brand-new AV8OR ACE is a portable MFD based on the AV8OR handheld GPS navigator. Like the AV8OR, it offers airborne weather and traffic information, optional automotive navigation capability and a suite of multimedia tools. The AV8OR ACE has a seven-inch, sunlight-readable display and provides detailed georeferenced FAA charts, making it possible to leave paper charts behind. The AV8OR ACE also has an intuitive touch-screen interface that allows for quick and easy map panning, and the ability to view logged flights on Google Earth. Contact: Honeywell Bendix/King, (877) 712-2386,
www.bendixking.com/av8or
.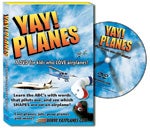 It's Never Too Early
In
Yay! Planes
, hosts Argyle and Jim, two socks who live in lost luggage, introduce preschoolers to all types of airplanes. This fun, interactive DVD for preschoolers is filled with original music. The DVD also includes an activity sheet with the NATO phonetic alphabet so that children can follow along and practice what they've learned.
Yay! Planes
introduces children to flying before their first airplane adventure. Contact: Beresh Global Media,
www.yayplanes.com
.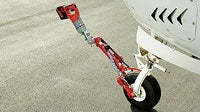 The Perfect Power Tow Accessory
Powered by Milwaukee's top-of-the-line 28-volt power unit, with a long-lasting lithium battery pack, the powerful and portable Sidewinder weighs less than 22 pounds, collapses to 27 inches and stows easily in your baggage compartment. Made out of 4130 chromoly tubing, the Sidewinder is available for a variety of single- and twin-engine aircraft. Contact: Aircraft Spruce, (877) 477-7823,
www.aircraftspruce.com
.

Fly With Dick Rutan
In
Decision Making with Dick Rutan
, Volume Two of the Aviator Series from Fly Right Films, you'll fly shoulder-to-shoulder with Dick Rutan, one of the most renowned aviators of all time. Discover how human factors affect your performance and influence your decision-making. Explore the brain, and learn how the mind responds and processes stimulus during in-flight emergencies. And learn the importance of channeling reactive, emotional responses into proactive, positive decisions that can save your life. Contact: Fly Right Films, (888) 808-8894,
www.flyrightfilms.com
.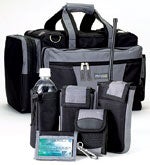 It's All About The Accessories
Though Sporty's created its new accessories specifically for its line of pilot-designed Flight Gear bags, they work with all brands of luggage, or on their own. The Sunglasses Case cradles your sunglasses with padding and rigid sides. The ID Holder makes it easy to display your ID at the airport, and the padded Cell Phone Holder can fit new, larger phone styles. The Transceiver Holder keeps your handheld dust free, and the Water Bottle Holder keeps bottles from rolling around on the floor. Contact: Sporty's, (800) SPORTYS,
www.sportys.com
.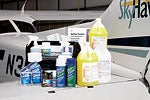 Clean Airplane = Happy Airplane
Regular and proper cleaning of your airplane is an important part of protecting your investment. Sporty's Complete Aircraft Cleaning Kit is loaded with safe, effective cleaning products that have been proven by daily use at Sporty's flight schools. The kit includes specific products to keep your exterior, interior and windshield in excellent condition, and comes with a deluxe carrying case. Contact: Sporty's, (800) SPORTYS,
www.sportys.com
.

Dynamic Prop Balancer
The DynaVibe prop balancer is an economical, state-of-the-art propeller balancer that displays the magnitude and phase of propeller vibration, allowing precise weight adjustments for smooth engine operation. DynaVibe reports both the rpm and vibration magnitude, resulting in reduced vibration and decreased mechanical wear of engine and instruments. Included with each Dynavibe are an accelerometer with 30 feet of cable, optical pickup, reflective tape (tach) and a carrying case. Contact: Aircraft Spruce, (877) 477-7823,
www.aircraftspruce.com
.
Page 3 of 3