Tuesday, August 23, 2011
October 2011 Readback
Rotax Celebrates!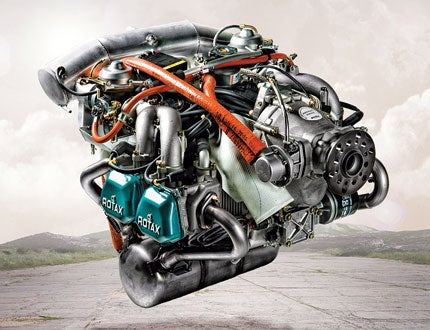 This year, Rotax Aircraft is celebrating 40,000 912/914 four-stroke engines and the 15th anniversary of the 914 line. More than 24 million hours have been logged to date on Rotax 912/914-equipped planes. Ongoing improvements of the company's engine design allowed for TBO of the 912 family to increase to 2,000 hours in 2009, followed by an increase for the 914 in 2010. "By building upon the experience of more than seven million Rotax engines produced for all BRP products," the company stated, "we strive to provide the highest possible reliability at low total operating costs." At EAA AirVenture in Oshkosh, Wis., Rotax supported the Young Eagles program by donating a 2012 BRP Ski-Doo MX800 E-TEC at the annual fundraiser event. With an eye on the future, all aircraft engines currently produced by Rotax are approved for use with Ethanol E10 fuel and lead-free Mogas. Research shows that more than 80% of LSA manufacturers worldwide are using two- or four-stroke Rotax engines. Visit
www.rotax-aircraft-engines.com
.
60,000th Stormscope
L-3 Avionics Systems has produced its 60,000th Stormscope Weather Mapping System, used for severe-weather detection in light aircraft. The company donated the system to the Gathering of Eagles fundraising auction at AirVenture. "This milestone is a testament to the advantages pilots receive with a Stormscope system on board, even when used in combination with datalink or radar information," said Larry Riddle, vice president of business development for L-3 Avionics Systems. Visit
www.as.l-3com.com
.
UAS Degree
Embry-Riddle's Daytona Beach campus is launching a BS in Unmanned Aircraft Systems (UAS) Science degree program this fall. The program is open to U.S. citizens who have a basic background in math and physics, and will focus on the operations aspect of UAS, preparing students for such roles as pilot, observer, sensor operator or operations administrator. A pilot track is offered for students who are interested in flight operations from the pilot's perspective, and a nonpilot track is for those seeking a career as a sensor operator or a support position. Professor Ted Beneigh, Professor of Aeronautical Science and Program Coordinator of the new degree, said, "Embry-Riddle stands ready to provide educated, well-qualified personnel to this new and important field that promises to revolutionize aviation." Visit
www.embryriddle.edu
.
Fly A Spitfire
Boultbee Flight Academy has launched a new Spitfire Academy, based at London Oxford Airport. Students will experience prewar training, starting in a Tiger Moth and a Harvard, and then moving on to a fully restored two-seat Mark IX Vickers Supermarine Spitfire. Visit
www.boultbeeflightacademy.co.uk
.
Logbook App For Android
NC Software's free Logbook Pro app is now available for Android devices. It keeps track of a pilot's flight logbook, including certificates, ratings, medicals, flight reviews, ground training, flights, currencies and more. Advanced analysis, extensive reporting and customization tools provide a complete picture of flight logs. It synchronizes with Logbook Pro PC edition. Visit
www.logbookpro.com
.
SVT In R9
Avidyne v9.3 software upgrade for the Entegra Release 9 Integrated Flight Deck (R9) system features Synthetic Vision Technology and support for three-screen R9 installations and onboard weather radar. "Customers will find our SVT second to none in terms of innovative features that are easy to use and that dramatically enhance situational awareness," said Avidyne CEO Dan Schwinn. "Forward Looking Terrain Alerting and an adjustable Field of View are great examples of how Avidyne has designed a synthetic vision system that is truly compelling." The v9.3 upgrade is expected to receive final FAA certification later this year. Visit
www.avidyn.com
.
Page 1 of 3