Tuesday, August 20, 2013
Oshkosh Adventure 2013
Flying cars, the JetMan, a new electric airplane and fantastic weather: one of the best years ever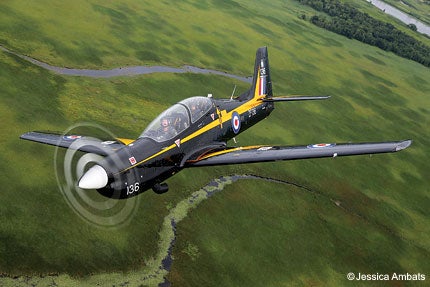 Patty Wagstaff and Lee Leet in Lee's Short Tucano T Mk1.
Lest we forget: Oshkosh AirVenture is the alpha and the omega of U.S. air shows. Airplane lovers young and old have flocked here to revel in the air show and hundreds of indoor and outdoor exhibits for 61 years. This year, the weather was so remarkably un-Oshkosh-like—balmy, breezy and downright cold some nights—that attendance was brisk (likely 500,000-plus) with good crowds even on Sunday, typically a ghost town-like getaway day.
No event in this year's chock-full lineup drew more raw excitement than the outdoor "sneak preview" screening of Disney's new animated film,
Planes
. The crowd was so massive, a couple of friends who thought they'd beat the rush ended up sitting on top of dumpsters at the extreme back of the grass lot.
The event was safely run in spite of the org's recent flap with FAA, that wants to charge EAA a cool half-million bucks for providing air traffic controllers for the week. That fight rages on.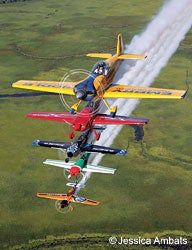 Air show performers Matt Chapman (Eagle 580), Jack Knutson (Extra 300), Rob Holland (MXS-RH), Kevin Coleman (Extra 300SHP) and Nicolas Ivanoff (Edge 540).
EAA's new Chairman Jack Pelton summed up the event with a list of accomplishments. A few highlights:
•
the stunningly choreographed reenactments of Japan's 1941 attack on Pearl Harbor
•
aerobatic legend Patty Wagstaff's return, doing her awesome routine in a Short Tucano T Mk1 turboprop trainer and making flights paying homage to women warbird pilots
•
another legendary aerobat, Sean Tucker, was named honorary Young Eagles chairman
The Jetman, that wild and crazy guy Yves Rossy, strapped on a little carbon/kevlar wing and two jet engines (a $100,000 package) to fly formation with a B-17 above the crowds, then land by parachute.
Icon A5 announced that FAA allowed a 250-pound weight exemption for the long-delayed amphib SLSA, for an MTOW up to 1,680 pounds. The A5 also got another bump: a price increase to $189,000.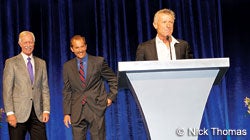 Sean Tucker is named honorary Young Eagles chairman.
Another long-promoted aircraft still sneaking up on production is the Terrafugia Transition SLSA flying car, which flew at the show.
Oshkosh reflects the times, through boom and bust, yet one thing has held true for 61 years: Whether it's new or old, real or in development, homebuilt or production aircraft, if it flies, you'll see it here sooner or later.
Page 1 of 5