Tuesday, August 20, 2013
Oshkosh Adventure 2013
Flying cars, the JetMan, a new electric airplane and fantastic weather: one of the best years ever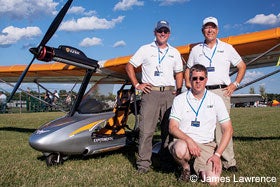 The GreenWing team and electric eSpyder e280.
GreenWing Electric eSpyder e280
Think of the eSpyder's place in history as equivalent to the 1908 Wright Flyer: It's not the first electric airplane to fly, but after several years development and with 1 to 1.5-hour endurance per charge, it's now in full production (as an Experimental kit for $39,9000.)
Certified to Germany's stringent DULV certification standard, the e280 says electric has arrived, and you can be a part of it.
Other production electrics exist in the U.S. But as with the 1908 Flyer, eSpyder enters the game as a mature design with deep financial backing and a commitment to global production, infrastructure and service to back its play. Initial production run is 50 aircraft, divided between the U.S. and overseas.
Based on the FlightStar ultralight, the e280 is highly evolved from that venerable classic. Sporting a max cruise of 68 mph, stall of 31 mph and empty weight of 410 pounds (max takeoff weight: 620 pounds), its Yuneec-developed motor delivers 32 hp-equivalent power (24 kilowatts) yet is under eight inches in diameter and weighs 27.5 pounds!
Lithium batteries power the whole affair. Charge time is two to three hours.
Noise? Fifty-one decibels. Cruising the Oshkosh ultralight pattern, I reached into the 40 mph airstream with my cell phone to snap a self-portrait...and easily heard the click-click of its shutter! Mostly you hear the wind noise and Yuneec carbon prop, like a big room fan.
A sophisticated smart charger and airframe parachute system are included.
GreenWing hopes to debut the production version of the exciting e430 two-place, electric SLSA at AirVenture 2014. Flight testing is already underway. Contact:
www.greenwing.aero
.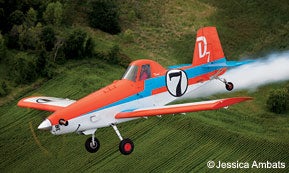 Rusty Lindeman brings Dusty Crophopper, the star of Disney's animated film Planes, to life.
Disney's Planes Rocks AirVenture
The advance premiere of the animated feature
Planes
had a real-life counterpart: the character Dusty Crophopper from the movie, flying in the form of a painted-up turbine-powered AT-400A crop duster flown by Rusty Lindeman.
Meanwhile, the turnout at EAA's Fly-In Theater Friday night was a record buster: 15,000 AirVenture guests jammed the lawn and environs to watch the premiere on the five-story-high outdoor screen. Director Klay Hall and producer Traci Balthazor-Flynn whipped up the excitement screening outtakes of the production staff's research, including airport visits, pilot interviews and flights in a variety of planes to make sure the animators got the look and feel of flying right. Judging from an over-the-top audience response, they nailed it.
EAA President Jack Pelton was instrumental in getting Disney to launch the film at the AirVenture event. An Interactive Disney Display Hangar also offered fun games, prizes and toys for kids. Rusty and Dusty will delight kids and their parents at another 10 air shows this summer across North America. Contact:
www.movies.disney.com/planes
.
Page 3 of 5