Wednesday, September 1, 2004
Sept-Oct 2004 On The Radar

New Piper 6XT

Lancair Columbia 400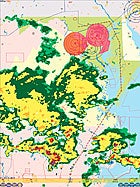 AirGator NAVAirWx

Chelton Flight Systems Flight Logic

Meggitt Avionics PFD
The trek toward high technology is not limited to those who can or will be buying a whole new instrument panel. AirGator (
www.airgator.com
), whose product displays onto a portable PDA or PC, is adding live temporary flight restrictions to its display. The company's NAVAirWx uses a satellite uplink to download ever-changing TFRs every 12 minutes. Weather information, including NEXRAD, METARs, TAFs, echo tops and lightning strike data updates in five-minute cycles. Control Vision (
www.controlvision.com
), also a provider of in-flight satellite data for PDAs, has added road mapping to its list of talents. A simple software upgrade makes its Anywhere Map system a fly-and-drive combination, allowing pilots to remove the PDA from the cockpit and follow driving instructions and a GPS-generated map to your overland destinations. Read more about both products in this issue in the article entitled "Portable Weather" on page 78.
Another welcome trend in portable cockpit technologies is the move toward becoming wireless. Several companies already have reduced the cockpit spaghetti of cables, connectors and conductors by enabling their devices to communicate without wires. For example, the new FG-4000 electronic flight bag from Advanced Data Research (
www.adrsoft.com
) offers a 8.4-inch display on a small ADR computer with an 866 MHz Pentium III processor. Pilots get the numerous benefits of WSI satellite weather, the Internet, GPS moving maps, terrain avoidance, plus Jeppesen's FliteDeck, FliteStar and FliteMap and a list of other goodies. The ADR computer uses a wireless LAN with a modem and features a 40 GB hard drive. Look for more wireless connectivity to begin showing up soon.
The new glass panel technology is making inroads into the flight-training world, as well. SimCom's (
www.panamacademy.com
) Piper Meridian simulator features an instrument panel that's identical to that found in the stock production aircraft. Made out of the original components of an actual PA-46-500TP fuselage, the Meridian simulator's avionics includes the Meggit MAGIC EFIS System, dual Garmin GMA 530 GPS/NAV/COMM Multifunction Displays, an S-TEC 550 autopilot and a GMA-340 audio panel with marker beacons. And to enhance "real-world" training, the Piper Meridian simulator features a full-color, wraparound, visual motion system, which can depict numerous day and night weather conditions.
Page 2 of 3