Friday, September 1, 2006
Sept-Oct 2006 On The Radar

The crown jewel of New Piper Aircraft's piston singles, the Mirage, has made its debut with the all-glass Avidyne Entegra panel. Its first cousin, the turbine-powered Meridian, made the conversion earlier, making the Vero Beach-based aircraft manufacturer all glass, all the time. " />
World-famous Flabob Airport in Riverside, Calif., will be the new home for Renaissance Aircraft, makers of the Luscombe 8. The company plans on producing the classic Luscombe and another version that will qualify as light sport aircraft. Initially the LSA will be a taildragger, but in time, it will also be offered as a nosedragger. The original Luscombe will come with a Lycoming O-320 up front, while the sport pilot version will have a Continental O-200. To see the Luscombe, log on to
www.luscombeaircraft.com
.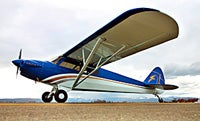 Sport Cub
Canadian-based Symphony Aircraft Industries, makers of the two-seat Symphony 160, have initiated a financial restructuring process, aka bankruptcy, as it's called in America. Symphony is seeking protection from its creditors while it tries to raise capital. During the restructuring period, the company plans on finalizing the paperwork to offer an Avidyne Entegra glass panel. The Website is
www.symphonyaircraft.com
.
If you think the two-seat market is tough, try the one-seat market. German aircraft manufacturer Extra is building a special single-seat Extra 300SHP for air show wizard, Michael Goulian. The totally redesigned aerobatic monoplane made its world debut in Berlin this summer, then showed up again at Oshkosh, Wis. Look at the whole line of Extras at
www.extraaircraft.com
.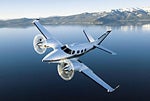 Royal Turbine Duke
CubCrafters, the folks who've been making "new" cubs for some time now, have been given S-LSA airworthiness certification for the Sport Cub. The company already has a substantial number of orders and will begin deliveries almost immediately. Visit their Website at
www.cubcrafters.com
.
Rocket Engineering, which produces the hugely successful Malibu JetPROP, finished their partnership with Northwest Turbine LLC to receive FAA certification on the Royal Turbine Duke. The company takes Beechcraft Dukes and trades the piston engines for Pratt & Whitney PT6-A turbines. The modification allows the pressurized six-place twin to take off in about 1,000 feet and climb at more than 3,500 fpm. The Royal Turbine Duke cruises at 300 knots for a range of more than 1,000 miles. Deliveries on the "new" Dukes have already begun. Take a look at the aircraft at
www.rocketengineering.com
.
Page 3 of 4