Saturday, September 1, 2007
Sept-Oct 2007 On The Radar

On June 28, Cirrus Design Corporation finally lifted the veil on "the-jet," the much-anticipated clean-sheet design for its "personal jet." "We're calling it a 'personal jet' not because of its size, but because it's a natural extension of our SR22 line," said Cirrus cofounder and CEO Alan Klapmeier. "Like the SR22, the-jet is designed to be owner flown, and it will be loaded with innovative features, including the Cirrus Airframe Parachute System. While it's technologically advanced, it's also designed to be exceptionally easy to fly, offering customers the opportunity to grow into yet another lifestyle change with Cirrus." " />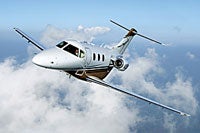 Hawker Beechcraft Delivers 200th Beechcraft Premier
Hawker Beechcraft Corporation delivered the 200th Beechcraft Premier to Hannay Reels, which has owned and operated business aircraft since 1952. "We were so impressed with the Premier that we ordered one back in 2000, while it was still a 'paper' airplane," said Roger Hannay, president of Hannay Reels. "Our confidence in the airplane, its performance and large, comfortable cabin make owning the 200th aircraft built a very special occasion."
"The success of the Beechcraft Premier is all about speed and cabin comfort," said Brad Hatt, Hawker Beechcraft's president of commercial sales. "Cruising at 450 knots with a spacious cabin, the Premier enables customers to travel in comfort quickly and efficiently."
The Premier IA is the world's largest and fastest single-pilot business jet. It has a high-strength composite, carbon-fiber/epoxy/honeycomb fuselage, produced by computer-controlled, automated machines, which give the aircraft a medium-jet-sized cabin at low acquisition and operating costs. The Premier IA is powered by Williams FJ44-2A engines, which boast simplicity, low fuel consumption and good high-altitude thrust performance.
The Premier IA's Rockwell Collins Pro Line 21 avionics system includes Integrated Flight Information Systems (IFIS) with total system integration and instrument placement designed to make single-pilot operation easy, simple and safe.
And it's not just the Premier that's sporting the Rockwell Collins Pro Line 21 avionics system. The new Beechcraft King Air C90GTi, the latest evolution of the popular twin-turbine Beechcraft King Air 90 series aircraft, now features a fully integrated Pro Line 21 avionics system. This is the same system at the heart of Hawker and Beechcraft airplanes, from the King Air B200 to the Hawker 900XP. This upgrade creates the lowest-priced, twin-turbine aircraft with midsized jet avionics. It will replace the current King Air C90GT.
"We're excited to announce the first new aircraft by Hawker Beechcraft Corporation," said Hatt. "The new King Air C90GTi is a logical step in creating a common avionics package across the King Air line, and continuing on up into the Hawkers. In conjunction with the airplane's Pratt and Whitney PT6A-135 engines, the C90GTi will deliver its passengers in a nearly 50% larger cabin and within minutes of even the closest competitive VLJ."
Page 4 of 6