Monday, September 1, 2008
Sept-Oct 2008 On The Radar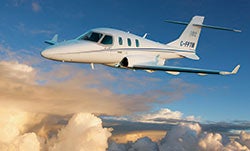 Big D-Jet Order From Chartright
Chartright Air Group, known as a manager and charter provider of business jets (from Astra to Global 5000 and MD-87), has purchased 10 Diamond D-Jets for delivery beginning in the third quarter of 2010. Adam Keller, president of Chartright Air Group, said, "The D-Jet will allow Chartright to expand services to offering market segments that haven't previously experienced the time and security benefits of this method of flying." He continued, "Chartright believes that once exposed to the efficiency of private jet travel, individuals are likely to draw upon Chartright's diverse fleet of larger jet aircraft to satisfy a broader range of missions."

Diamond Aircraft President Peter Maurer said, "The D-Jet is intended to provide the most desirable and attainable jet to a broad range of pilot and nonpilot air travelers, combining the executive cabin-class seating comfort of much more expensive business jets with the lowest possible acquisition and operating cost."

A typical round-trip charter between Toronto, Canada, and Philadelphia, Pa., could cost $10,000 to $15,000. According to Chartright's calculations, that same trip might cost just $4,000 in the D-Jet; in either case, total time would be less than two hours each way, including check-in, security and customs. For more information, visit www.chartright.com and www.diamondaircraft.com.



JetAviva's 75th VLJ Acceptance
JetAviva's Jet Acceptance Service has now performed predelivery flight tests, 800-point technical inspections and thorough cosmetic inspections on some 75 very light jets (VLJs), including the Cessna Mustang (Citation 510) and the Eclipse 500. Operating the world's largest fleet of managed VLJs, JetAviva has a staff of type-specific technical experts for each VLJ, providing clients (from individual pilots to large-fleet customers


like Linear Air) with a Jet Acceptance Service that allows pilots to focus on their flight operations, and fleet operators to focus on generating revenue rather than the technical details of bringing airplanes into the fleet. The company offers jet acquisition and sales services that are backed by experience with more than 100 VLJ sales transactions and 75 technical acceptances. Learn more at www.jetaviva.com.


AirShares Elite Acquires iFly
AirShares Elite's fleet of Cirrus SR22-G3 Turbos will soon be flown by customers of iFly, who previously had access to a fleet of Cessna (formerly Columbia) 350s. Founded in 1999, the new parent company aims to capture more of the Southwest's market for professionally managed, fast pistons equipped with glass cockpits. The G3s are being added to the West Coast fleet, enhancing altitude performance across the board.



AirShares Elite CEO David Lee noted, "AirShares is the largest national shared-ownership program, and iFly runs the biggest program in the Los Angeles/San Diego market. Together, we'll offer our customers an even greater range of flying experiences—more planes in more locations, with a larger, more experienced and more capable organization. The new organization will be a plus for all of our owners."

The combined resources of the new, larger AirShares include four Cirrus SR22-G3 Turbos, with more on order, and 54 normally aspirated Cirrus aircraft. AirShares is working with each iFly member on a Cessna-to-Cirrus training program. iFly's fleet of (normally aspirated) 350s will be sold and replaced by the all-Cirrus fleet. For more information, visit www.airshareselite.com.

Page 3 of 5