Monday, September 1, 2008
September 2008 Readback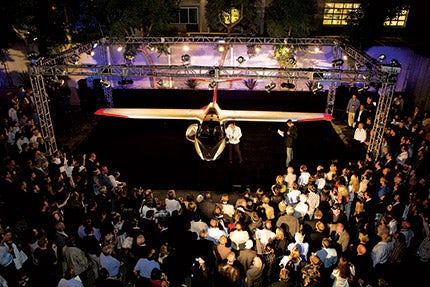 ICON Is Here
When Vern Raburn talks, people listen. Recently, the visionary behind the Eclipse VLJ was talking about a new light-sport amphibian, the ICON A5. Raburn is an adviser for start-up ICON Aircraft, which aspires to create a sport aircraft that will "do for recreational flying what personal watercraft did for boating."
Think Jet Ski, car and motorcycle—with wings. Designed by Kirk Hawkins, an engineer and former F-16 jockey, the A5 would make James Bond envious. The sleek, easily trailered (with folding electric wings) amphib should prove no lightweight in the sky either. The engineering and development team comes from Burt Rutan's Scaled Composites. The sexy, carbon-fiber, composite waterbird seats two and will float/roll to your dock or hangar starting at $139,000, perhaps by 2010. All-up weight is cited at 1,430 pounds with a 105-knot max speed and a 300 nm range; the aircraft is powered by the 100 hp Rotax 912 ULS. Flight-testing hasn't begun yet. More information is available at
www.iconaircraft.com.
Auto Gas For Lycoming
Lycoming announced an unleaded automotive gasoline approval program for its standard compression ratio O-360 and IO-360 product lines. Unleaded 93 AKI automotive gas conforming to either Euro Norm EN228 (in Europe) or ASTM D4814 (in the United States) will be the basis of this Lycoming-specified fuel. Aircraft certification approval must be obtained separately to permit operation with this fuel. Program approval is expected by fall 2008. Learn more at
www.lycoming.com
.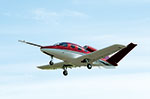 "The-Jet" Flies & Gets Its Official Name
The most highly anticipated aircraft in Cirrus' history, "the-jet," made its first flight on July 3. The 45-minute flight was conducted from Duluth International Airport in Duluth, Minn., and the aircraft performed flawlessly. It looked spectacular in its red and white paint (the model and mockup have been displayed in gold and white). A week later, the single-engine personal jet received its official name, "Cirrus Vision SJ50." Backed by more than 400 deposits of $100,000, the Cirrus Vision should begin deliveries in 2011. Visit
www.cirrusdesign.com
.
Fractional Ownership Of Mooneys
With US Aviation Group's National Fractional Ownership Program, six pilots split the cost and expenses on a new IFR-equipped Mooney Acclaim Type S. US Aviation arranges checkouts, scheduling, storage and maintenance. "All the pilot has to do is show up and fly," said Justin Shelley, US Aviation's director of aircraft sales. "It's a perfect solution for the owners of small businesses. Fractional ownership puts a high-performance aircraft within financial reach of many pilots who are enticed by the simplicity of the concept." Visit
www.usaeroplex.com
.

Michelin Gets Military Medal
The U.S. military recognized Michelin Aircraft Tire Company as one of the government's best suppliers with a Best Value Medal Award at a special honors dinner held on June 3. Brett Carnes, director of Michelin's North American military sales, accepted the silver medal. "Michelin is committed to providing the right tire at the right place at the right time in support of our military men and women around the globe," said Carnes. Visit
www.airmichelin.com
.
Page 1 of 3