Tuesday, July 28, 2009
September 2009 Readback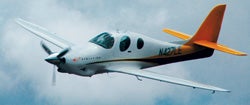 Lancair's Piston Evolution Flies!
Redmond, Oregon–based Lancair has completed the successful first flight of its newest Evolution model. The piston version of the pressurized, four-place Evolution will be powered by Lycoming's new iE2 series of engines. The aircraft will cruise at 270 knots and offer a full fuel payload of 1,074 pounds. Visit
www.lancair.com
.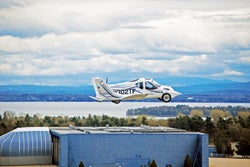 Flying Car Completes Flight-Testing
The Transition proof-of-concept (POC) roadable LSA finished its first flight on March 5; it also made 27 other flights over the following weeks. The successful completion of flight-testing with the POC concludes the first stage of a four-stage process to bring the Transition into production. Work is underway on stage 2, the beta prototype. The two-seat aircraft can take off and land at local airports and drive on any road, transforming from plane to car in less than 30 seconds. The LSA will cruise up to 450 miles at more than 115 mph, drive at highway speeds on the road and fit in a standard household garage. The first delivery is expected in 2011. Visit
www.terrafugia.com
.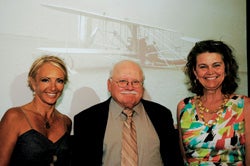 The Wright Stuff
The Wright brothers' first flight, whose centennial was marked in 2003, was hardly the last of their aerial milestones. In 1909, they made the first public demonstration flight in North America, flying a Model A biplane over the Hudson River during New York City's Hudson-Fulton Celebration. On June 24, the centennial of that historic flight was marked by a presentation in Manhattan featuring Amanda Wright Lane, the brothers' great-grandniece; Dr. Tom Crouch, the National Air and Space Museum's senior curator; and aerobatic star Patty Wagstaff. Guests were also treated to a helicopter flight retracing the Wrights' 20-mile route.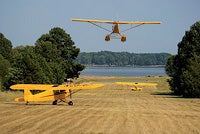 Legend Cub Cooperative Ownership
American Legend Aircraft Company now offers a Cooperative Ownership Program whereby its Legend Cub can be purchased for $2,900 down, based on a one-quarter-share interest in ownership, and flown for $28 per hour. The Legend Cub is a two-place aircraft certified for sport and recreation. The new program is made available through
LetsFly.org
. LetsFly President Eldon Corry stated, "The LetsFly Cooperative Ownership Program enables pilots to achieve their goal of aircraft ownership, and do it affordably." Visit
www.letsfly.org
and
www.legend.aero
.
Page 2 of 3