Tuesday, February 25, 2014
Social Flight: Pencil Me In
With its free website and app, SocialFlight is helping pilots interact
One key to SocialFlight's booming popularity is that everything is free. The company's revenue comes solely from advertisers who are more than happy to pitch their products to a focused and active audience that already has built-in interest in those products. One great feature of the mobile app is that it's nonintrusive and doesn't ask for access to all your personal data, unlike so many free apps that want to snoop on everything on your phone or tablet. "We also try not to be too commercial," Simon tells us, "and nobody gets our users' email addresses."
Engaging with the app is simple. You register with some basic information, including your event interests (fly-ins, breakfasts, museum events, etc.) and your location. You tell the app how far you want it to search for events, and what kind of aviation you're interested in (LSA, warbirds, jets, etc.). As soon as you launch the app (or sign into the website for non-mobile users), a map displays with your home airport and the number of events available within your search range. It's beautiful in its simplicity.
SocialFlight's event database includes nearly 10,000 activities important to pilots, such as aircraft fly-ins, type clubs, air shows, pancake breakfasts, radio broadcasts and podcasts, and FAA safety seminars. SocialFlight users can search for events, add events, chat, upload photos, get email notifications, send event notices to their friends and add events automatically to their Google or Outlook calendar. The app includes tools for organizations, such as aircraft owner's groups. Using a free web link provided by SocialFlight, organizations can provide their members with an interactive view of their own events right from the organization's web site.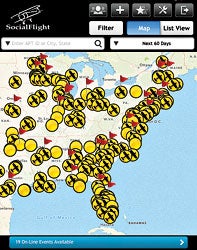 Social Flight's event map pulls from a database of nearly 10,000 aviation activities.
"We use a ton of technology to scour what we call 'crowdsourced data' across the internet to find events," Simon explains. "That's in addition to groups that submit information directly to us." Simon tells us that many organizations are using SocialFlight as their exclusive calendar. For example, the Seaplane Pilots Association (SPA) uses SocialFlight to notify their members of club events. "This benefits the users because they can access events from anywhere," says Simon, "but also opens these events up to the public." Suddenly, anybody with an interest in seaplanes will see an event that, before SocialFlight, they'd only have seen if they had been a member of SPA. "The main benefit is that it accomplishes the goal of engaging more people in aviation."
Simon himself is a 20-year pilot, aircraft owner and A&P mechanic. He developed SocialFlight with a team of specialists and continues to refine the site. "We have big things coming in 2014," he added. Simon explained that the core of SocialFlight is about events. His dream of it becoming the go-to site for aviation events is quickly becoming a reality. Just last week, SocialFlight added 200 users, and those numbers are climbing fast. Simon has seen a change in the number of people engaging in these events. "I believe that just notifying pilots of these kinds of events will push them over the edge to go."
I have to admit that I had heard about SocialFlight several years ago, but never gave it much thought. The plethora of aviation websites that competed for my time kept me away. Since researching the site and talking with Simon, I'm happy to report that I'm now a member. Every Wednesday, a notification comes to my email address with everything going on that week. I find myself looking forward to hearing about what my fellow pilots are doing. There's a biplane get-together coming up that I had never heard about that I think I'll go to. Mission accomplished.
Page 2 of 2