Tuesday, May 21, 2013
The Hot 10 Spring Roundup
Our best picks from the 2013 Sun 'n Fun international fly-in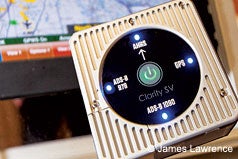 Clarity SV ADS-B
Clarity SV ADS-B receiver
Cute as a biscuit, Sagetech's Clarity and Clarity SV (Synthetic Vision-capable) ADS-B receivers are little powerhouses of data-crunching traffic awareness. The units receive signals from aircraft carrying ADS-B Out Transponders, then deliver the data to an iPad via Wi-Fi link, where iOS apps display the whereabouts of nearby broadcasting aircraft—in other words, air-to-air traffic display.
It's all part of the coming-on-line NextGen traffic awareness network, which began implementation in 2009. ADS-B Out is mandated for all aircraft flying in certain designated airspaces by 2020, other than those without electrical systems, gliders, balloons, etc.
ADS-B Out devices transmit precise location to ground stations and all aircraft equipped with ADS-B receivers.
The Clarity ADS-B Receiver communicates with Synthetic Vision software such as Wing-X Pro, Mountain Scope, iPad EFB and Xtreme Vision 3D, which then plot the aircraft on a GPS moving map to show you location, altitude, direction of flight and other readouts.
Clarity SV includes a high-precision WAAS GPS receiver, internal six- to eight-hour battery and inflight FIS-B (weather radar, forecasts, NOTAMS, etc.)—and it does not require subscription fees.
Luke Skywalker, you won't need to count on the Force with these gadgets.
Prices: Clarity, $1,150; Clarity SV, $1,400. Contact:
www.sagetechcorp.com
.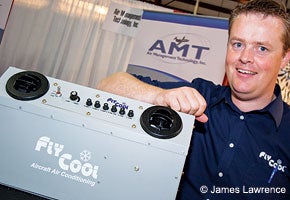 FlyCool
Keep Your Cockpits Cool
With Florida doing its bit this spring to simulate full summer heat, the FlyCool display was a busy place. Four light-sport aircraft—a CorbiAir Alto 100, Flight Design CTLS, Tecnam LSA and Czech Sport Aircraft SportCruiser—and FlyCool installations on field, with lots of appreciative pilots checking out the installations.
The compact, 10,000 BTU/hour-capacity unit puts out a refridge vibe equivalent to what a car air-conditioner can do. It's intended for the LSA and experimental-built aircraft market and is designed specifically for airborne applications.
Each FlyCool system is tailored to the specific aircraft it will live in, since LSA in particular tend to have small and diversely located baggage spaces. Compressors are electric powered and hermetically sealed. Aluminum core heat exchangers (rather than copper) make for lighter weight. Brushless DC motors drive the innards, for long life and no interference to flight instruments.
Electric-powered operation (from an additional engine alternator) was chosen over belt-drive in part to allow cooling of the cockpit on hot days while pilots are doing preflights before engine start. Installation, maintenance and repair are also easier, and maximum engine power for takeoffs and big climbs isn't compromised. Also, compressors can be installed away from the hot firewall-forward environment.
Price: $12,000-15,000 depending on complexity of installation. Contact:
www.amt-aero.com
.
Page 4 of 6