Tuesday, May 21, 2013
The Hot 10 Spring Roundup
Our best picks from the 2013 Sun 'n Fun international fly-in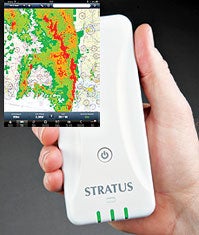 Sporty's Stratus ADS-B
Sporty's "2nd Gen" Stratus ADS-B Receiver
Electronic situational awareness is also big now, and avionics makers are jumping on the ADS-B bandwagon. By 2020, everyone flying into air traffic-prone areas is required to have installed ADS-B Out (for broadcasting location data in flight) on their aircraft.
There are clear benefits to having ADS-B In too, as the newly revised Stratus receiver from Sporty's Pilot Shop amply confirms.
You simply link the eyeglass case-sized unit to your iPad (via Wi-Fi), and you've got dual band (978 MHz and 1090 MHz) ADS-B traffic live in the cockpit. Main features:
•
 subscription-free weather including NEXRAD radar, METARs, TAFs, TFRs, AIRMETs, SIGMETs, NOTAMs and more
•
 multiple iPads and/or iPhones can simultaneously connect
•
 ADS-B traffic displays all aircraft near you, showing their altitude, position, heading and more
•
 Stratus is the only current ADS-B receiver that works with the ForeFlight Mobile app. Its built-in WAAS GPS receiver uses the app to display high-res moving and terrain maps and track-up display.
•
 a free iPad Stratus app (iOS) from Sporty's brings back-up, self-aligning GPS position, attitude and groundspeed (your own AHRS, or Attitude, Heading and yaw Reference data)
•
 more than eight hours battery life, made in the U.S.A.
Price for 2nd Gen: $899. Contact:
www.sportys.com
.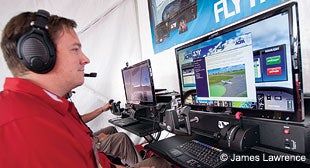 Rerbird Jay
Redbird Jay Standalone Flight Sim
Dedicated full-motion flight simulator leader Redbird just came out with the Jay By AOPA personal flight simulator. It comes complete in a single box: Pull it out, plug it in to the wall and your monitor, and off you go, because Jay comes with its own built-in computer, yoke and throttle.
You can download prebuilt training missions created by aviation professionals, publications and companies interested and involved in the product.
Example: A mission scenario takes you through a simulated approach to Sun 'n Fun, which, like Oshkosh, isn't for the faint of heart. Here's a way to get lots of sim practice before the actual event.
Users load missions and watch audio and video cues that show you what procedures to do and how to do them. Then the actual simulated mission is flown. Fun! Future downloadable
missions are planned for routine training as well as challenging scenarios like recreating an accident flight after a high-density altitude takeoff in mountainous terrain, or flying into IMC conditions unintentionally.
Currently all scenarios are free, though modest fees might be charged down the line. Rudder pedals are available as a $500 option, or use your own USB rudder pedal module.
Price: $2,490. Contact AOPA at:
www.aopastore.com
.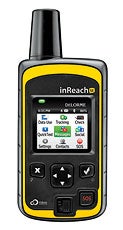 DeLorme in Reach SE
DeLorme inReach SE
The name says it all: When you carry one of these compact, lightweight, handheld satellite tracking devices on your person or in the cockpit, you can leave a Hansel and Gretel breadcrumbs-style GPS track or send off an SOS to DeLorme's GEOS 24/7 search/rescue center—with texting—to let your important people know where you're at.
The color-LCD inReach SE (there's a non-screen version also) came out of the need for backcountry trekkers to communicate or get help when needed, so it's a natural for pilots who frequently fly off the grid and out of cell phone range...which covers most of us.
InReach taps into the Iridium satellite network (100% global coverage), allows sharing and viewing of GPS coordinates, and there's even a virtual keyboard for sending 160-character text messages when out of cell range. Receive text messages too, and get automatic notification that your messages are being received.
Key feature: the 100-hour lithium battery life, important for rugged terrain when weather may delay rescue.
For the Facebook/Twitter crowd, social media posting is enabled. It's even waterproof to one meter for up to 30 minutes.
The device Bluetooth-pairs with DeLorme's Earthmate GPS smartphone or tablet app for mapping, navigation and journey tracking. Topo maps and NOAA charts also accessible. Price: $299. Contact:
www.inreachdelorme.com
.
Page 6 of 6