Flight Training
Our flight-training articles can help you become a better pilot. From getting a license in two weeks to advance flying techniques, our pilot training for general aviators cover all the information you need.
Thursday, March 1, 2007
Learn To Fly: Solo At 14
A 14-year-old boy, trained in Compton, solos both a helicopter and fixed-wing aircraft!

If anyone thinks that they can't do what they put their mind to, they should meet Jonathan Strickland. Like any typical teenager, his vocabulary gravitates toward words such as "yeah" and "cool." But what sets him apart from the rest is quite extraordinary. Jonathan can't drive a car yet, but he can fly both an airplane and a helicopter!
Thursday, February 1, 2007
Earning A Tailwheel Endorsement
Andover Flight Academy's stick and rudder training brings out the bush pilot in everyone

It's still an airplane," insisted Damian DelGaizo, as I hesitantly leveled out over a grass strip much shorter than I was used to. "Don't overthink it." In the flare, I tried my best to pretend that the Top Cub's main wheels weren't actually there, per Damian's coaching, but it's not that easy to ignore 31-inch tundra tires. Easing the stick back, I focused on the tailwheel instead. After a dance between altitude, airspeed and imagination, we touched down on all three wheels. But before I could even exhale—"Rudder, rudder, rudder!" exclaimed my instructor. "Stay alive on the rudder." Although we were earthbound, the landing was far from over. Small jabs—playful yet authoritative—on the rudder pedals kept our yellow beauty pointed in the same direction we were moving. Slowing down, small inputs became large ones, and we rolled to a stop on the bumpy grass.
Monday, January 1, 2007
Learning To Fly In A Cirrus SR22 Part II
Navigating cross-country with a glass panel

After having successfully completed several solo flights in the Cirrus SR22, I entered the next phase of my private pilot training: cross-country navigation. My concerns as a student pilot in a glass-panel cockpit were twofold: would the state-of-the-art avionics be overwhelming; and if not, would I become so dependent on them that I wouldn't be able to navigate with an "old school" sectional chart?
Wednesday, November 1, 2006
Learning To Fly In A Cirrus SR22
Is the best-selling aircraft appropriate for student pilots?

According to Cirrus, the all-glass panels in their planes make learning to fly easier and safer than with the round gauges that pilots have used almost since the beginning of aviation time. We weren't so sure, so we put their claims to the test. I was to earn my private pilot license in a Cirrus SR22.
Friday, September 1, 2006
Santa Maria's New Build A Plane Project
Kids join in a project to rebuild a Cessna 172

Dan Williams has always been interested in aviation. "I had my first flight lesson at 18, but I had no money to finance further lessons in college," he recalls. Though he maintained his interest in aviation, it wasn't until the end of his first marriage that Dan could get back to flying, only now he was also interested in a project working with kids. So when he met Stephen Walker, owner and director of Avionics West, Inc., at Santa Maria Airport in California, the two bonded over their love of aviation and their mutual desire to get kids similarly interested and involved with flight.
Tuesday, August 1, 2006
Build A Plane
Another high school adds a real airplane to its curriculum!

It was late in the afternoon by the time the big truck pulled up outside of John Burroughs High School in Burbank, Calif. The kids had been waiting for hours and they crowded around to see if there was any truth to the news that had flashed throughout the school.
Saturday, April 1, 2006
Earn A Pilot's License In Two Weeks?
Light sport aircraft are producing sport pilots in a remarkably short time

A little more than a year ago, the FAA passed legislation creating a new category of airplane, light sport aircraft (LSA), and a new rating, the sport pilot license. The idea was to make flying more accessible (driver's licenses became the new medicals), easier to complete (minimum flight hours were reduced from 40 for a private pilot to 20 for a sport pilot) and less expensive (LSA are significantly cheaper to own and operate). Despite all the kudos from aviation groups, no one really knew just how successful the new aircraft and license would ultimately be.
Saturday, April 1, 2006
Learning To Fly Seaplanes
It's more than learning to take off and land on water. It's a brand-new flying experience.

For many pilots, attaining a seaplane rating is near the top of their must-do list. Runways are rendered obsolete when you've got a seaplane; just head for the nearest lake or river. Fortunately there are an abundance of schools worldwide that offer courses in water flying, but few are quite as unique as Italy's Aero Club Como."Pilots come from all over the world to learn here," says the club's president, Cesare Baj. Lake Como is among the most beautiful places on earth, and seaplanes have been operating there continuously since 1913.
Wednesday, March 1, 2006
Learn To Fly: Happy Birthday, Kristin!
A young girl from Arkansas celebrates in a special way

The sun was not up yet, but Kristin and her father were. She was already busy preflighting the family's Cessna 152 for a flight from their home in Sea Ridge, Ark., all the way across the state to Jonesboro, Ark. A dozen hours, two oral exams and two check rides later, Kristin would be back home with two new ratings in her hand—a private-pilot license and an instrument-pilot rating she earned that day. Not a bad present on your 17th birthday.
Wednesday, February 1, 2006
Tomorrow's Aeronautical Museum
You won't believe what these kids are doing

Every day—yes, even Christmas—between 50 and 150 kids show up at Tomorrow's Aeronautical Museum (TAM), an incredibly unique nonprofit flight school in Compton, Calif. First they must finish their homework (there are even tutors there to help), and then they can take advantage of a variety of opportunities to earn money. The jobs might include graffiti mitigation, picking up trash from a local community park or even washing the occasional Cessna on the school's flight line. But the money they earn is not available to the kids as hard cash. Instead they receive credit for flight lessons at the TAM flight school. The result is that an amazing number of kids from a tough inner-city Los Angeles neighborhood are learning to fly.
Thursday, September 1, 2005
Flying With Floats
There are a whole lot more places to land when your airplane can get wet

You ready for your check ride?" asks Tom Brady of Traverse Air nonchalantly. What the heck is he talking about? That was only my second flight! My mind raced with the implications of a check ride and the possibility of failure. I think I'm getting the skills of flying a floatplane on and off the water, but how can I be proficient enough to take a check ride already?
Thursday, July 1, 2004
Challenge Yourself
There are lots of ways to have more flying fun. But if you sign up for advanced ratings, you'll also end up being a better pilot.

No question about it—earning the private license is a major accomplishment. Some pilots will never need to seek additional ratings. The private allows pilots to operate in a wide variety of conditions, and many aviators content themselves with the entry-level ticket.
Monday, March 1, 2004
Learn To Fly!
Flight Training Adventure Camps offers a unique and exciting opportunity for aspiring pilots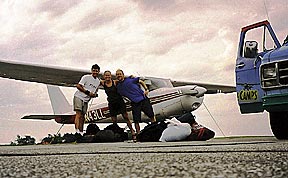 Learning how to fly means, among other things, mastering the controls of an airplane, understanding weather theory and unraveling the mysteries of aerodynamics—all of which can be studied at a local airport. That is an adventure in itself. But what if that process were taken one step further? Imagine, for instance, the Wild West as your flight school. The airplane, your teacher. Here, the vast expanse of the West plays an integral part in your flight training. It's a daring place where you sleep, breathe and eat aviation, 24 hours a day, seven days a week, where you can sleep underneath the wing of the plane you're learning to fly and where all around you is some of the world's most inspiring landscape. This is you learning to fly.
Sunday, February 1, 2004
Build A Plane Takes Off!
Pilots from across America and around the world have put the project in motion

Recently, Plane & Pilot asked pilots if they'd be interested in a project that we named Build A Plane. The question we put to our readership was simple: What if there was a program that offered young adults the opportunity to roll up their sleeves and get involved in general aviation? Guided by mentoring adults, what if teenagers were given the opportunity to restore or build a real airplane?
Wednesday, November 30, -0001
Short-Field Ops
How to make every runway seem longer

Wanna talk about short-field landings? Sure, why not?