Tuesday, August 20, 2013
A New Beginning
As ma­jor airlines hire for the first time in a decade, pilot demand heats up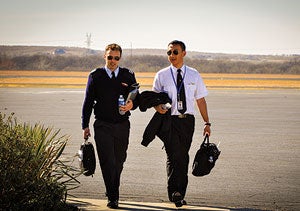 The demand for pilots from international airlines is skyrocketing, with most training at facilities in the U.S.
Since early this year, training schools are being contacted directly by regional carriers looking to recruit students prior to graduation. ATP just launched their airline-sponsored career track through "letters of agreement" with carriers looking to hire selected students long before they complete training. Programs like this guarantee a fixed flow of students to regional carriers, though they haven't been around for years. ATP isn't the only school where commercial carriers are scouting top talent and grooming them to their own standards.
Aerosim Flight Academy has a large and well-respected airline training program, including a degree program in conjunction with Jacksonville University, and a number of career aviation tracks. Hank Coates, the Vice President of Aerosim, tells us that early recruiting is exploding. "Regional airlines are coming to us with 'pathway' agreements that allow our CFIs to become their employees while they're still building time." Coates adds that it's not just one carrier, but most of the regional airlines that are coming to Aerosim to seek out pilots in this kind of "farm-team" arrangement.
Transpac Aviation Academy in Phoenix, Ariz., and US Aviation Academy in Texas openly talk about their new "pipeline" programs with American Eagle. The program allows qualified Certified Flight Instructors (CFI) at these schools to fast- track their career as an airline pilot by becoming employees of American Eagle while they're building time toward the new minimums required by the FAA. For pilots, it means they get medical, dental and vision benefits, as well as travel privileges on American Airlines and American Eagle while they're still instructing. Once Pipeline Instructors reach the ATP minimums and 50 hours of multi-engine experience, they're placed into new-hire pilot training at American Eagle.
Another huge development in recent months is the appearance of "signing bonuses" from some of the larger regional carriers. American Eagle and Republic are just two carriers that are upping the recruiting ante by offering a $5,000 bonus for pilots signing on with the carrier. Republic is offering an additional $500 referral bonus. These types of incentives have been absent from the airline industry for years, and they're another indication that regional carriers are bracing for a slump in available pilots.
The Numbers Game
Several indicators are used to forecast the number of pilots needed in the future. Fundamental is Boeing's Current Market Outlook, which has been accurately predicting commercial aviation needs for more than four decades. Boeing's well-publicized report shows a need for 460,000 new commercial pilots by 2031, along with 601,000 maintenance technicians. 70,000 of those pilots will be needed domestically, while international carriers will absorb the rest. Numbers from the U.S. Bureau of Labor Statistics project a more moderate growth rate of 11%, with a need for 11,500 more pilots by 2020.
Regardless of which source you believe, exploding growth in air travel across the globe means that air carriers are ordering massive numbers of jets (more than 35,000 aircraft worldwide in the next 20 years), and somebody has to fly them. The recent Asiana crash in San Francisco, where a simple visual approach was apparently bungled by pilots who may have been inadequately trained, illustrates the challenge in finding the right people to train as pilots. Airlines understand this and see a real potential for not having enough qualified pilots to fly their aircraft. After screening, only a fraction of applicants go on to become First Officers for the best airlines.
Page 2 of 5