Tuesday, April 21, 2009
From Cirrus To Citation
JetAviva puts its clients into the left seat of light jets
Top 5 Ways To Ease The VLJ Transition
By Cyrus Sigari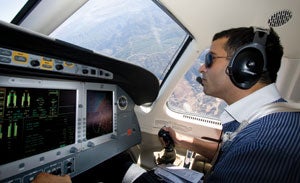 It was three o'clock on a Thursday afternoon when my cell phone began to ring. A friend, J.B., had just finished his third day of simulator training for his new VLJ. I knew what was coming. I could sense it before I even answered the phone. "Cyrus, I can't do this…this is too hard." I sat and listened to J.B. talk about why he should quit training, sell his plane and come home.

Transitioning to a VLJ is a humbling experience. If you're considering the transition, know that there will probably be a moment when you too will want to give up. This is normal. If the transition is approached correctly, however, a transitioning VLJ owner-pilot won't have to make the kind of call J.B. made to me.

Having helped dozens of individuals make the transition to one VLJ or another, I know that a smooth and fun transition can be had, but only with thoughtful, realistic planning and, more importantly, the right attitude.

1) Choose the right mentor. Too often, mentors come to the aid of newly transitioning VLJ owner-pilots after they've received a type rating. For a mentor to be truly helpful, the person should be brought in well before the transition process begins in order to help sculpt the transition plan. A mentor serves many roles: planner, coach, disciplinarian, adviser, teacher, friend and therapist. That's right—a therapist. You need somebody to talk to when you hit the point in your transition when you think, "There's just no way I can do this." The most important questions to ask yourself about a prospective mentor are: 1) Can I learn from this person, and 2) Does he or she have the experience required to teach me? You also need to get along with the person. If you can't readily communicate, there won't be any learning. Is the person enthusiastic about your flying success? Does he or she love teaching? Does the person know the techniques required to safely fly a single-pilot jet? Interview a few prospective mentors before making a decision. Pick the one who'll best help you develop the judgment and decision-making skills to successfully fly your VLJ.

In addition to a mentor, you need to get a support network behind you. This is an important step in the transition process. It's now very easy to find a support network through online owners groups. There's an owners group for each VLJ type flying today; for example, there are groups for the Embraer Phenom 100 (www.jetbrief.com), the Cessna Citation Mustang (www.citationjetpilots.com) and the Eclipse 500 (www.eclipse500club.org), to name a few.

2) Understand what's expected of you. Per the Federal Aviation Regulations, any turbojet requires the pilot in command to hold a type rating. In most cases, a type rating can be earned either in the airplane with a designated pilot examiner or through a Part 142 simulator-based training facility, such as FlightSafety International or CAE SimuFlite. Most insurance companies require owner-pilots to successfully complete a simulator course before they'll be insured. In either case, to successfully pass a type-rating program, you must pass a thorough checkride to Airline Transport Pilot (ATP) Practical Test Standards. Even if you hold a private pilot certificate, you'll be tested to the highest standards. Most of the Practical Test is focused on the applicant's instrument-proficiency skills. Part of your transition plan should focus on demonstrating fine-tuned instrument skills prior to arriving at a type-rating school. This can be done at your local flight school or with a trusted CFI. Under no uncertain terms should you arrive for your type-rating course without having polished up on your instrument skills beforehand.

3) Been there, done that. By far, the most effective way to ensure a smooth transition into a VLJ is to build time in type prior to beginning the type-rating process. This can be done in two ways. The first assumes that you take delivery of your jet before going to training. After taking delivery, work with a mentor in your jet before you go to type-rating school. The amount of time spent training beforehand varies from applicant to applicant, but on average, 15 to 30 hours of real-world experience in the jet can make a world of difference. If early delivery of your plane isn't an option, there are a number of companies that offer Phenom 100, Mustang or Eclipse aircraft for rent, enabling you to build experience with an instructor.

4) Be honest. Be truthful about where you are, and where you need to go. Fly with your mentor to get a sense of how much work you need. For most people, the biggest areas for improvement include checklist usage, autopilot and flight management system (FMS) usage, performance calculations and instrument proficiency. Once your mentor has the opportunity to assess your level of proficiency in the above categories and your previous flying experience, the person can help you lay out a comprehensive plan of action to get you type-rated.

5) Have fun! The challenge of owning and flying a VLJ is likely one of the principal reasons why so many people have chosen to take on the task. Making the transition should be an enjoyable experience. It should never turn into a burden. If it has, you should reevaluate your transition plan immediately—it's likely there was a wrong turn made somewhere along the line.

Page 4 of 4