Tuesday, January 22, 2013
Learning To Fly: All About Priorities
There's a practical solution to every barrier in aviation
From The Catwalk To The Runways
Nadia Marcinko was a nervous flyer. Whenever she'd climb into the cramped seat of an airliner, she'd begin to feel tense and uneasy.

Unfortunately, travel was a way of life for the young teen, who was discovered by a modeling agency in her native Slovakia. She modeled internationally for Chanel, Dior, Vogue and MTV, and eventually the agency sent her to New York. Tired of hating her airline trips, she got the prophetic idea for a flying lesson so she could learn more about the mechanics of flying. She reasoned that a flying lesson might ease her nervousness.

Marcinko called a friend who she knew was a pilot, and asked him if he could recommend a place to take her introductory flight. He took her to a small FBO at Lantana Airport in Florida (officially called the Palm Beach County Airport). Her introductory flight there was a freeing experience. "That was it!" says Marcinko, "I fell in love with flying right there, and dove right into lessons."

Flying three or four times a week and financing lessons with money she earned modeling, Marcinko quickly earned her private certificate. Her friend—who was also a corporate chief pilot—became her mentor and supporter, and helped her quickly climb the ratings ladder.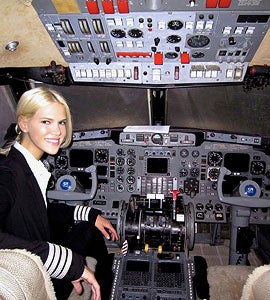 "Florida was too flat," laughs Marcinko, "so I went to Santa Fe, N.M., to do my instrument ratings in the mountains." She had her eye on corporate flying, though she would still take the occasional modeling gig. Marcinko then finished her multi-engine and commercial ratings at Airline Transport Professionals (ATP).

With a whopping 250 hours in her logbook and a laundry list of ratings, Marcinko got another unheard-of offer from her mentor friend: He needed a third crew member on his corporate flying job in a Gulfstream II jet.

He said if she could pass the type rating, he'd give her the job. Marcinko went for it (who wouldn't?) and made her way to SimuFlite in Dallas, a respected business aviation training facility.

Marcinko said there were more than a few people who were skeptical. "Somebody there said with only 250 hours, I had about a 10% chance of getting the type rating." But Marcinko pressed on, undaunted. "I lived on coffee and Red Bull for three weeks," she laughs, "but I studied and got the rating." Suddenly, Marcinko was an official right-seater in the G-II. "The first flight was kind of crazy," she adds, "I didn't remember how to open the cabin door." She found the experience overwhelming, especially because of the difference in feel between the simulator and the aircraft. "Everything was real for the first time," she says. "There was no reset button." Marcinko—who had never flown anything larger than ATP's Piper Seminole—was now a Gulfstream pilot. That was in 2010.

The Slovakian beauty became something of a public relations juggernaut, launching a website called "Gulfstream Girl," which Marcinko says she created to promote aviation by inspiring others. "Being a fashion model who became a jet pilot is something different," she explains. "Maybe it will inspire other girls to become pilots."

Marcinko—who also knows a thing or two about promotion from her experience in a family-run marketing business—morphed Gulfstream Girl into a Facebook page, where she has managed to get over 8,000 "Likes" in a few months. She hopes to promote aviation there, too, and judging from all the offers to be her co-pilot, it seems to be working.

A savvy businesswoman, Marcinko also launched a site called "aviloop.com," which she describes as "a group buying website for all things aviation." The site's goal is to make general aviation more accessible and affordable by offering discounted deals on flight lessons, pilot accessories, charter flights and other aviation products and services.

On the humanitarian front, Marcinko serves as an ambassador for Universal Models for Peace. The organization is a network of fashion, music, film and finance experts working together to help find sustainable solutions to local and global issues.

As a CFI, Nadia also loves taking people on introductory flights in Cessna 172s, just as she did not so long ago.

As far as flying, Gulfstream Girl has a few offers in the works, including a gig commanding a Gulfstream IV out of Teterboro, N.J., and she will keep her current Gulfstream job.

"All I know is I never want to stop flying," says the delicate blonde, with just the tiniest hint of an accent. "I want to inspire others so they can see that, if I can achieve my dream, they can, too."
Page 7 of 9