Tuesday, June 3, 2014
License Next Step: Commercial Certificate
AFIT's accelerated Commercial Pilot program adds finesse, control and the ability to get paid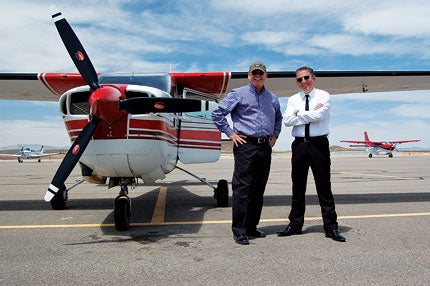 Commercial training focuses on aircraft control, high-performance operations, federal regulations and decision making.
I thought my instructor, John, was testing me to see how I'd react. "Gear down," I called, and waited for the familiar "thunk" of the gear, finishing its extension. I was busy setting up a power-off, 180-degree approach and landing to a specific spot, which was one of the required maneuvers on the commercial pilot certificate checkride, now just days away. The wind was howling pretty good in St. George, Utah, and my hands were full with keeping the big, turbo Cessna 210 stable in the roiling turbulence. I didn't hear the gear sound, and I noticed there was no "locked and down" gear light. My instructor wasn't flashing his usual "let's see what he'll do now" smirk. He looked serious.
Leaving the pattern, we began troubleshooting, recycling and pumping the gear several times, but still couldn't get it down and locked. Even consulting the manual proved fruitless. The wind got worse as we decided to head back to Cedar City airport to use their long runways and open approaches to our advantage while trying to fully extend the gear. But the airport had been closed. Trucks, equipment and men were scurrying about in the howling wind. We decided to continue north to Parowan (1L9), a slice of time out of the golden days of aviation, with a single 5,000-foot runway, a derelict crash truck and a great mechanic—Dave Norwood at Parowan Aero Services.
The wind was almost 90 degrees across the nose as we considered killing the engine to save the prop if the gear collapsed. Norwood walked outside and called us on his handheld, suggesting we make a low pass so he could inspect the situation. "Looks like the gear is in between its extension cycle," he said in a calm and studied voice. "It never finished coming down, but it'll probably be okay." He had seen this kind of thing before in 40 years of turning wrenches on general aviation airplanes. But "probably" wasn't my favorite word.
John had me land while he worked with the gear, pumping so it wouldn't collapse. I made the turn to final (I hadn't even thought to worry) with the 210 bucking about. Quickly, final turned into Mr. Toad's Wild Ride as I tried to put the burly airplane down gingerly. The wind was gusty, and my landing wasn't pretty, but the gear stayed up! John kept reminding me not to brake since the gear might collapse easily. We rolled to a stop in front of Norwood, where he commenced a 10-hour repair, tracing the problem to a faulty down-lock switch. It was all within the realm of commercial pilot experience.
AFIT Approach
I was in Utah with Accelerated Flight and Instrument Training (AFIT, wwwafit-info.com) going through their accelerated training program for my commercial pilot certificate. AFIT specializes in both end-to-end and "finish-up" ratings, where the instructor comes to you, and the training is focused into a fixed number of days. AFIT will instruct in your airplane or through a network of prescreened FBOs around the country. I had done my instrument training with AFIT and came back to the wonderful folks at Sphere One Aviation in Cedar City, Utah. I'd do the rating in their Cessna 210.
Among a handful of respected accelerated schools, AFIT differentiates itself with a single element: their instructors. Tony Montalte, AFIT President, tells me their secret of is that he selects only seasoned instructors who want to instruct full time and do it because they enjoy it. "At a lot of schools, the instructor works on weekends or maybe a few days here and there," said Montalte. "Most are building time to go elsewhere. We select instructors who want to instruct by choice and who have between 20 years' experience or more." AFIT goes far and wide to find instructors that fit their stringent requirements, and while not all of them have grey hair, each has a depth of experience that's hard to match.
Page 1 of 4