Tuesday, April 21, 2009
Looking For 200 Knots
Forty years ago, the goal was 200 mph. Today, it's 200 knots.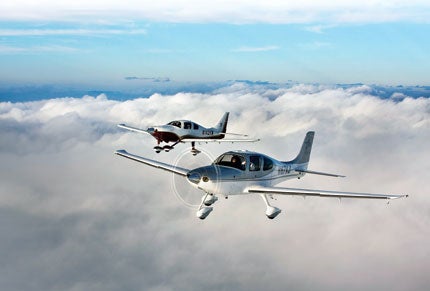 Fast feels good. For those of us obsessed with clocking along at the velocity of a Lamborghini, speed is the kinesthetic equivalent of beauty.
Unfortunately, speed in an airplane is less telegraphic than in a supercar, unless you're running the pylons at Reno. Granted enough altitude, speed becomes all but invisible. While you may be covering ground more quickly, it's hard to tell.
Years ago, when I had the once-in-a-lifetime opportunity to fly the McDonnell Douglas F-15 Eagle at 37,000 feet and Mach 1.6—roughly 1,050 mph—the big speed was simply a number on a dial, not that impressive from seven miles up.
Similarly, if you're flying peacefully in a single-engine private airplane, operating in clear air and sunshine 10,500 feet above Kansas, the difference between 200 mph and 200 knots may be difficult to spot. It's hard to tell if one silo is drifting by faster than another.
But make no mistake, speed is still the ultimate aphrodisiac for many pilots and, therefore, the target du jour of many manufacturers. Two hundred knots has become the new improbable dream that 200 mph used to be. Range, payload, climb, endurance and all the other parameters shrink to relative insignificance compared to pure, unbridled speed.
That's not to demean 200 mph (or if you'd rather, the less numerically significant 174 knots). Even today, you can count the number of single-engine airplanes capable of max cruise at 200 mph on one hand. Among production machines, there's only one Piper, one Cessna, one Cirrus, one Beech and the inevitable Mooney.
These days, the search for ultimate knots above 200 among piston singles is led by a similar quintet of contenders, at least two of which will give the bottom-rung turboprops a run for the money (and a lot less of it, at that).
Page 1 of 4