Tuesday, March 12, 2013
Risky Business
Little-known tools that can help make your next flight safer
The result is the basis for the FAA's Aviation Risk Assessment Program, being used in other countries. The FAA published the "Personal and Weather Risk Assessment Guide" in 2003 that contains a risk assessment form along with some excellent tools to help guide pilots through the decision-making process. Although the form is now 10 years old, few pilots even know it exists. It's available for free, here:
Flight Assessment Risk form.pdf
The risk assessment form takes each of the "P.A.E." areas and divides them into specific factors. For example, the "environment" section includes things such as "wet runway," "approach over water" and "ceilings less than 3,000 feet AGL."
Each factor is assigned a value—either positive or negative. Once the form is completed by the pilot (which takes only a minute), it generates a value. That value is the relative riskiness of the flight. It's matched against a matrix of actions that the pilot is advised to take. Some of the actions include, "Don't go," or "Consult a CFI." Using the form is a real eye-opener.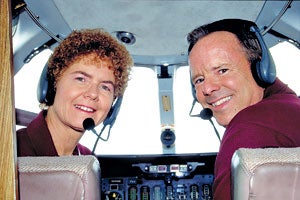 The Kings are passionate about GA's risk and advocate a realistic look at safety.
Does using a simple form work to make flying safer? Yes, it does! I've been using the FAA's Risk Personal Assessment form since I met Barnes weeks ago. I've used it for actual flights and not for "I'm-writing-an-article-so-I-have-to" reasons. The simple exercise of filling out the form has actually changed how I approach a given flight. Barnes explains why.
"Simply knowing and being able to measure the risk for a particular flight makes the pilot more aware," says Barnes. "This makes the flight safer by default." Barnes explains that awareness of risk increases the attentiveness of the pilot and forces him or her to consider alternatives before the flight, not in the air when options may be few and stress levels high.
He also cautions that the risk form is not some "Magic 8-Ball" that makes the "go or no-go" decision for the pilots. "This is a tool to show the pilot where the risks are to make the pilot think about the flight," he adds. "It's another tool to help the pilot make better decisions." Barnes challenged me and all pilots out there to try the risk assessment form for themselves to see the difference it makes.
Barnes also added a sobering thought. "Remember that this is not just another FAA-conceived program to make you remember some acronym or fill out some useless form. These numbers were paid for by the lives of pilots who were probably better than you or I."
Page 4 of 5