Monday, November 2, 2009
The Checkride Chronicles
A year in the life of a designated pilot examiner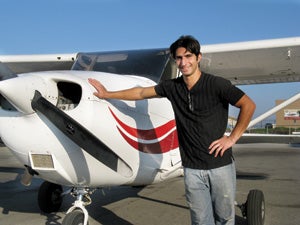 March–April
One determined 54-year-old applicant demonstrated his desire to succeed by arriving well prepared and early—all points on his side. His flight plan form, however, lacked a column for fuel burn, which prompted me to ask: Will you run out of fuel over a mountain, lake or desert? Seems important to me.
Two other applicants neglected to bring to the exam, as previously assigned, weather reports, charts and forecasts. Weather is available online or from a live briefer on the phone. Per the
PTS
, applicants are required to exhibit knowledge related to weather information from various sources. Analyzing the unfamiliar props supplied by the examiner is a lot more difficult than bringing and decoding your own weather documents.
During one exam, with the oral portion completed, the applicant and I made our way to the ramp. My applicant inquired whether I'd prefer that he perform a full or an abbreviated preflight. Abbreviated preflight? Fascinating. Never in my general aviation career had I heard of such a thing.
"Explain, exactly, the difference between a full and an abbreviated preflight," I asked. "Well, I filled the tanks just this morning before I flew over," he answered. "So you would leave your rental aircraft for three hours on a working ramp at an unfamiliar airport without checking the fuel, in this economy? I'm not getting in." We didn't go flying until we visually verified that there was enough fuel and until I was satisfied with the completed preflight inspection.
May–June
My latest checkrides have been a revelation: We U.S. citizens are extremely lucky to have relatively unlimited access to our skies. I've now completed eight checkrides, and some of my applicants have come from as far as Taiwan, Korea and Mexico; in some cases, these students will return to their home countries to pursue aviation careers.
Many countries don't have enough nationals to fly their airliners, and their respective regulations and training programs are very complex and extensive, resulting in high failure rates. In Japan, for example, instruction in radio law and engineering culminates in a written exam—which is necessary in order to get a Japanese radio station license from the Ministry of Posts and Telecommunications—that's only offered at a handful of times and places. (The FCC's equivalent is no longer a requirement for U.S. pilots.) I underwent the arduous process of a six-month training period and exam to get a B747 type rating through Japan Airlines' training center in Tokyo. This experience made me realize that despite the difficult-to-decipher FARs, pilots in the States benefit from a user-friendly system that enables them to safely navigate some of the world's most congested airspace.
Americans have an enviable freedom to pursue their aviation dreams. The United States is world renowned for offering top-notch training, private through airline. There are international flight schools in the U.S., and our pilots are in demand on international crews. It's a privilege to be a U.S. student pilot, just as it's a privilege to be a flight instructor and DPE here.
July–August
Anyone who's interested in an aviation career knows that he or she will probably be working on holidays and weekends. (For Valentine's Day, my husband had dinner with Captain Steve in San Antonio while I tested applicant number nine, an aspiring Navy flight surgeon.) Those who intend to enter the aviation industry shouldn't hold holidays, weekends or summers sacred. If you don't want to work on Christmas or your kid's first birthday, then the airlines may not be for you. At least, not until you've accumulated decades of seniority. (I barely blinked an eye when I had to change my wedding date to accommodate my upgrade training from L-1011 flight engineer to MD-80 first officer.)
Page 2 of 3