Tuesday, April 7, 2009
Weather In The Cockpit
XM Weather provides real-time information in the cockpit for pilots who are serious about their weather decisions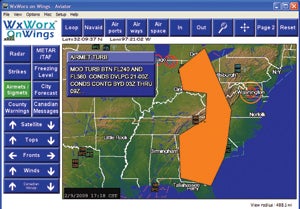 WxWorx on Wings displays AIRMET information from XM WX Satellite Weather
The information is collected from numerous government and commercial sources by WxWorx, a major supplier of weather information. As suggested above, the weather products offered vary from simple to incredibly comprehensive. Update rates vary with each product, depending upon availability of new information, but the refresh rate can be as little as five minutes.
A complete description of all the available data types listed above would consume most of the magazine, but most of the system's products are self-explanatory. A great deal of flexibility is provided in the display of XM products. They can be displayed on a variety of GPS screens, MFDs, EFBs and even pocket PCs. Pilots can either use FAA-certified or portable receivers, so they can employ the system as an integrated component of their cockpits or as portable, plug-and-play additions.
Satellite transmission has the advantage of being relatively impervious to atmospheric anomalies. Even heavy rain, hail or major atmospheric disturbances won't interrupt the transmission of XM Weather, no matter what the product. In total, there are 19 data categories available, enough to keep pilots engaged and well-informed about what lies ahead.
All this sophistication might suggest that XM Weather is only for drivers of high-ticket turbine equipment, but that would be far from the truth. In some respects, the XM Weather products are even more appropriate to low-altitude operation, where weather can be more dynamic and have a greater impact on the safety of flight. XM's information isn't just for aviators flying in the clag. You don't have to be a hard-core instrument pilot to appreciate the benefits of XM.
Perhaps the most obvious and valuable VFR application of the system is the winds aloft page. There are several wind tricks that can come to the rescue of pilots and their wallets in a number of situations.

Even heavy rain, hail or major atmospheric disturbances won't interrupt the transmission of xm weather, no matter what the product.

A few months back, I was delivering a Marchetti SF.260 some 5,500 nm from Santa Monica, Calif., to Coventry, England, and elected to take along my Garmin 396 with XM Aviator coverage. I knew my coverage would only work in the continental United States and southern Canada, but that still represented nearly half of the distance to be traveled. XM's two satellites (idiosyncratically named "Rock" and "Roll") are parked in geosynchronous orbits above North America's East and West Coasts, so the service is tailored primarily for the United States. It does extend several hundred miles into Canada and Mexico, however, and I knew I'd benefit from the system for the first 400 miles into Canada.
Page 2 of 3
Labels:
Buyer's Guide
,
Decision Making
,
Flying Skills
,
New Products
,
Pilot Skills
,
Pilot Supplies
,
Safety
,
Weather Flying
,
Weather Skills
,
Handheld Gadgets
,
Best Buys
,
Gear