Tuesday, September 22, 2009
Flying The Corridors
VFR flight corridors serve a useful purpose in congested and some not-so-congested airspace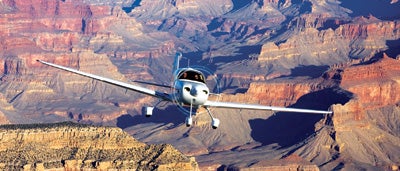 The NTSB has yet to determine a probable cause for the accident, but the amateur video most of us saw on the news suggests the conclusion will be the usual: "Both pilots failed to see and avoid…" One of the problems for those of us on the inside looking out is that we understand some level of risk is inherent in any human pursuit, whether it's something mundane, such as crossing the street in Des Moines, or romantic, such as bungee jumping off a bridge in New Zealand. We know that flying is generally less hazardous than driving, and the risk of a midair collision is so small as to be insignificant. Still, midairs do happen, and they get more headlines than auto accidents. We can't expect people who don't understand aviation to be impressed by the facts. Those facts are that VFR corridors are remarkably safe.
(At this writing, the FAA has announced it will be establishing new rules that include specific pilot frequencies and airspeed limitations within the Hudson River corridor.)
LAX Special Flight Rules
Los Angeles has a VFR corridor similar to New York's, though it's slightly better defined and more formal, but it's equally convenient for facilitating the flow of traffic from north to south. Again, it doesn't demand ATC services, and that's good rather than bad. Just as in New York, ATC in Los Angeles is often far too busy to contend with VFR aircraft.
LAX is at the far western edge of the megalopolis, flush against the Pacific. Most flights approach from points east, and that means Los Angeles airspace is split in the middle. The standard-profile descent brings traffic into Los Angeles on a long straight-in from Big Bear Lake, right down the center of the Los Angeles Basin, leaving six airports on the south side and five airports to the north. Without some form of transition route, it would be impractical to fly from, say, Santa Monica or Van Nuys on the north side, to Torrance or Long Beach on the south side.
For that very reason, the FAA established the LAX Special Flight Rules Area (SFRA) directly above LAX, a VFR corridor with two designated altitudes, 4,500 feet northwest bound and 3,500 feet southeast bound. Defining a corridor across the center of LAX is infinitely logical, as all airline traffic is either landing or departing below. For that reason, there's no cross traffic above the center of the runway. (Before you ask, airline go-arounds are instructed not to climb above 2,500 feet.)
Standard procedure is to announce position and direction on 128.55 MHz, flying at 3,500 feet southeast bound and 4,500 feet northwest bound. The route is further defined by the Santa Monica VOR 312/132-degree radial. Aircraft are instructed to operate with all lights on and to squawk 1201 while in the corridor. To keep traffic reasonably in trail, speed in the corridor is limited to 140 knots.
It's significant that the Los Angeles corridor has never had a midair collision, partially a function of the vertical separation of opposing traffic by the usual 1,000 feet. Another factor is pilots who are more diligent in assuring their own reasonable separation when they know there's no controller looking out for them.
Page 2 of 3