Tuesday, February 9, 2010
From Tailwheel To Turbine
Total transition training, the Gauntlet way
Click On This Link To View Our Complete Photo Gallery
Bill Stewart, until recently a lapsed pilot, sounds like something between a fighter jock and a kid in a candy store as he recounts his latest aerial exploits on the ramp at Chicago's Aurora Municipal Airport (ARR). Arrayed around him are a full house of the world's best training aircraft. The two jets and three pistons represent all edges of the performance envelope: a Decathlon and an Extra 300L from the civilian aerobatic world, an SNJ/T-6 from the warbird taildragger school, and from the other side of the Iron Curtain, two Czech-made military jet trainers, an L-29 Delfin and L-39 Albatros.
"I've flown every one of these airplanes, and I got the type rating to fly the L-39," says Stewart, a retired commodities trader. "It's a little Walter Mitty, but the fact is, it's real. You can come out here and fly around in fighter jets—I'm having the time of my life."
We're standing in front of the fleet's home, Gauntlet Warbirds (
www.gauntletwarbirds.com
), founded in 2005 to provide pilots of any skill level with the training required to fly jet and high-performance piston warbirds. "And the training isn't as difficult as many assume," Gauntlet's chief pilot and guiding light, Greg Morris, tells me in the school's briefing room. Small replicas of the fleet's aircraft are mounted on sticks (used to illustrate and dissect maneuvers) and hang kitty-corner to a whiteboard wall with sketches of airplanes in unusual attitudes.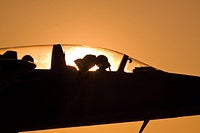 "People see all these cool jet warbirds, and they think, 'I wasn't in the military,' or 'I don't fly for the airlines,' or 'I don't have thousands of hours of tailwheel time, so I can't fly those things.' And that's absolutely wrong," says Morris. "We wanted to make a place that helped people achieve their [warbird flying] goals, and get more people into this sort of flying."
Morris feels that the need for such training has grown as a new generation of relatively inexperienced owners succeeds the ex-military and -airline pilot types who have previously dominated the warbird pilot corps: "We're seeing this market change. Professional pilots are selling airplanes, and a lot of warbirds are being sold to nonprofessional pilots." Gauntlet's president and owner, Mark Roche, is a good example.
"I got my private pilot's license in a typical Cessna 172, but I was always interested in World War II warbirds," Roche says. "I had a passion for World War II history, and I always said I wouldn't get into flying seriously without owning a warbird someday."
Page 1 of 4