Monday, August 1, 2005
Top 10 Pilot Errors
Here's a smart way to look before you leap onto the next flight

One of the most disturbing statistics about general-aviation accidents is that more than 75% of them are made because of pilot error. Considering that it's unlikely that pilots are going away anytime soon, the solution comes in the form of prevention. Saying this is easy, but actually making progress toward this goal is rather problematic. The first step toward eliminating pilot error is to examine the enemy. Just what types of errors are pilots committing and why? Then, armed with this information, pilots can make a concerted effort to avoid such mistakes through a fusion of training, planning and keen attention." />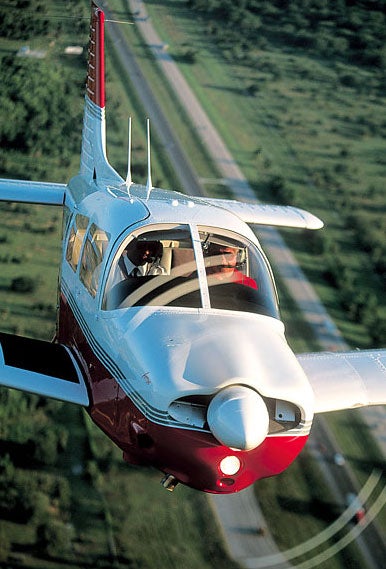 There's a common misconception that critical pilot errors occur only during flight. A surprising number of accidents result from inadequate preflight, like using checklists and forgetting to fasten the cockpit door (above). They're small mistakes that could escalate into a series of big ones.
One of the most disturbing statistics about general aviation accidents is that more than 75% of them are made because of pilot error. Considering that it's unlikely that pilots are going away anytime soon, the solution comes in the form of prevention. Saying this is easy, but actually making progress toward this goal is rather problematic. The first step toward eliminating pilot error is to examine the enemy. Just what types of errors are pilots committing and why? Then, armed with this information, pilots can make a concerted effort to avoid such mistakes through a fusion of training, planning and keen attention.
1 Weather. The more a pilot knows about it, the better. While thunderstorms, icing and winds claim their share of airplanes, the real weather gadfly are those serene, innocent-looking clouds and their cousin, fog. Clouds and fog aren't inherently dangerous; it's just that when pilots fly into them, they don't know how to fly on instruments. They fly into a cloud, lose control and crash. Accident gurus call this flying "VFR into IFR." Well over 80% of such accidents are fatal.

Even though these accidents are referred to as "inadvertent flight into instrument meteorological conditions (IMC)," only 24% of them are inadvertent. The remaining cases show pilots who continue into poor weather. Why is this? Overconfidence is one. Some believe that they don't need to stay current or that their hour under the hood is good enough. Social pressure also plays a role. Passengers want to get there and pressure the pilot to continue. Last, there's "get-there-itis." Pilots are mission-oriented, sometimes too much so.

2 CFIT. Another common pilot error that often involves weather is controlled flight into terrain (CFIT). A simplified definition of CFIT is "flying a perfectly good airplane into the ground." If a pilot is in a cloud or in fog, he or she can't see the ground. If the pilot isn't doing a good job of keeping up with the terrain, an unpleasant meeting with the ground is more likely. Another time when CFIT can be a factor independent of weather is at night. Pilots seem to have a knack of flying into trees and hills after the sun goes down. Again, if pilots allow themselves to be lulled into neglecting to constantly compare their present altitude to that of surrounding terrain, the outcome is likely to be nasty. If you can't see the terrain, you must be able to point to your position on a sectional, en route chart, approach plate, etc., or you shouldn't be flying.

Page 1 of 4