Sunday, July 1, 2007
What's RVSM?
A great idea that allows ATC to fit more airplanes into smaller, radar-less airspace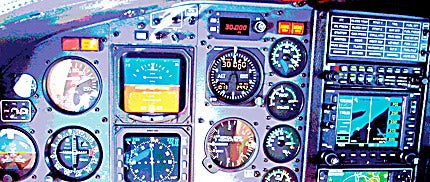 The problem was simple: too many airplanes and too little sky. This flies in the face of traditional wisdom that suggests it's a very big sky. While that's unquestionably true above places such as Chad, Antarctica and the Gobi Desert, there are other places where there's an uncomfortable amount of aluminum vying for roughly the same airspace.
We're not talking about such busy terminal airspace as the Class B regions of Atlanta, Dallas, Chicago and Los Angeles, the world's busiest airports. Instead, we're referring to the high-altitude, oceanic tracks above 29,000 feet that lie across the Atlantic, between the United States and Europe. These have always comprised some of the world's most crowded en route airspace.
Perhaps because Europe and North America are the two most populous and economically developed regions of the world, the amount of air transportation between them has ballooned to proportions unimaginable even by the standards of 20 years ago.
Dozens of individual and state-sponsored airlines operate hundreds of daily flights back and forth between the capitals of Europe and North America. Corporate traffic is also increasing in the high sky, and since business jets operate at roughly the same heights and speeds as airliners, they're subject to the same flight-level traffic jams.
Radar coverage over much of the United States and Canada allows air traffic control to regulate the flow of traffic relatively easily. The inherent limitation of radar is that it's only usable to line-of-sight, and that suggests radar coverage typically stops at a maximum 200 or so miles from the dish. This means that most of the world's oceans have no radar coverage, and that includes the North Atlantic.
Page 1 of 5